Description
Caribbean Coral Serenity Pool Float
The Caribbean Coral Serenity Pool Float is soft and everlasting. You can feel the difference compared to other foam lounges, the thick, soft, closed-cell, vinyl coated foam provides unmatched comfort and durability. The exceptional quality of the foam used in this float increases buoyancy. The closed-cell foam will not Burst, lose air, or absorb water. Includes a full-roll pillow that provides additional buoyancy for the head and shoulders. The vinyl coating resists sun, chlorine, and saltwater and is easy-to-clean. The rippled texture cools you off even on the hottest summer day. Manufactured using eco-friendly best-practices including responsible recycling makes this float one that you can feel good about owning. This pool float will provide years of enjoyment, relaxation, and fun.
Durable Construction – Each swimming pool float is constructed from quality vinyl-coated foam that's guaranteed shrink-resistant.
Fun and Comfort in One Product – Pool float is designed with full-roll pillow for optimum head and neck support. Also features ripple texture for added appeal.
Easy to Clean – Low maintenance pool float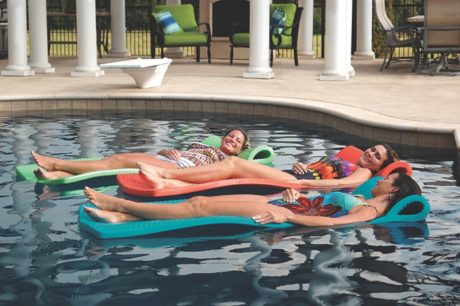 Caribbean Coral Serenity Pool Float Features:
Rippled surface is designed for comfort
Made from soft, buoyant, closed-cell foam
Vinyl-coated for a long-lasting finish
70 in. x 25 in. x 1.5 in.
Pool Warehouse
Pool Warehouse, Americas #1 source for inground pool kits, inground swimming pool liners, above ground pool liners, above ground pool kits and Hot Tub Spas since 1998.
Open:
Phone: 800-515-1747
At Pool Warehouse, We Know Inground Swimming Pool Kits!