Description
Enersol Solar Pool Heater Kit – 14′ x 28′ Pool
This Enersol Solar Pool Heater Kit – 14′ x 28′ Pool contains everything you need to heat a 14′ x 28′ in-ground pool! Solar pool heating panels are very efficient and the most cost-effective way to heat your pool. Most solar pool heating systems don't need extra power to operate. They use your existing pool pump to move filtered water through the panels and back to your pool. This allows solar pool heaters to reduce your heating costs and carbon footprint. Solar pool heating panels will also extend your pool season for more family fun.
Pool Heater Kit Includes
16 Solar panels, 1′ x 12′
1 System installation kit
1 Pentair automatic controller
1 Check valve, PVC 1.5″ white
2 Ball valve, PVC 1.5″ white
Long-Lasting
The Solarprene® rubber used in the Enersol Pool Heaters makes them 
the most durable solar panels available. 
It is suitable for the worst Canadian winters or the hottest southern temperatures. 
It is 
resistant to saltwater,
 harsh UV rays
and ozone and pool chemicals.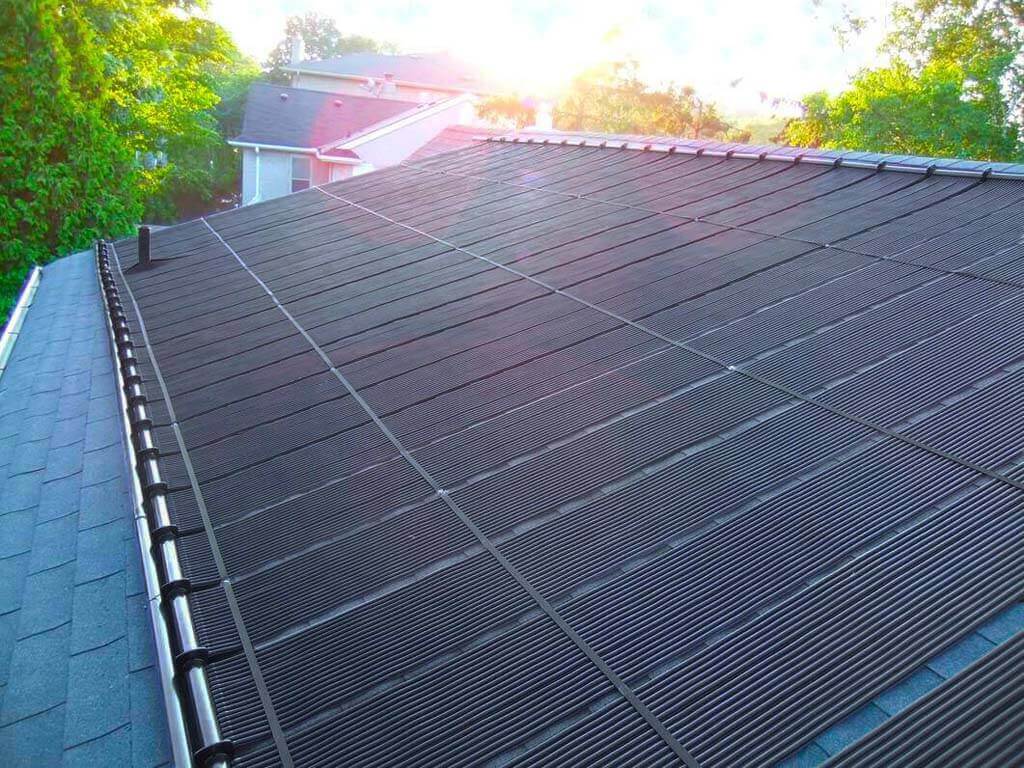 Highest Quality
Enersol manufacturers the solar panels to the highest standard and rigorous quality control. The operators inspect each panel to guarantee years of service.
One Time Investment
Unlike natural gas heating, Enersol Pool Heaters are a one-time investment. Their primary heat source comes from the sun. You won't have to worry about costly monthly fuel bills after you install your solar pool heater.
Versatile
Because Enersol Pool Heaters are so versatile, you can install them anywhere the sun shines. Here are some options:
on the roof (home, pool change room)
on a rack
on the ground
Exclusive "Slip and Clip" Technology
This exclusive Enersol Technology allows for simple, fast and yet reliable assembly. You don't need extra hardware or tools to assemble the panels. The Enersol clips have been tested to disengage under extreme freezing conditions. This prevents piping damages and provides peace of mind.
Modular design
The modular design allows maximizing your roof or rack spacing in 1-foot increments. If you decide to add more panels in the future, you can add or remove them without much effort.
Perfect Fit
The Enersol proprietary injection-molded headers and clips are custom made of ASA thermoplastic. This material is ideal for outdoor use and guarantees perfect fitment every time.
Have Questions
If you have questions about the Enersol Solar Pool Heater Kit – 14′ x 28′ Pool, please feel free to give us a call at 1-800-515-1747 or send us an email, sale@poolwarehouse.com.
At Pool Warehouse, We Know Swimming Inground Pool Kits!