Description
Excel Top Mount 24″ Sand Filter
The Excel Top Mount 24″ Sand Filter is one of the best pool filters in production today. If you need something a step above your average Hayward or Pentair sand filter then look no further! This pool filter raises the bar infiltration and sanitation because the folks at Excel have made it their passion to ensure that your pool is operating at its very best at all times. Uniquely Molded from a uniquely durable, corrosion-proof reinforced thermoplastic, this filter features attractive, unitized tank construction for years of trouble-free operation with only minimal care. This swimming pool sand filter can be added to any in-ground swimming pool kit sold by Pool Warehouse!
Excel Top Mount 24″ Sand Filter Features:
Flange clamp design that allows rotation of the valve to simplify plumbing.
Integral top diffuser ensures even distribution of water over the top of the sand media bed. Full-size internal piping provides smooth, free-flowing performance
Unitized, corrosion-proof filter tank molded of rugged, colorfast polymeric material for dependable, all-weather performance
Clear Sight Glass For Backwash Inspection.
Multi-Port Valve With Quick-Connect Barrel Unions.
Manual Air Release.
Ready For Standard 1.5″ Plumbing
Control valve with easy-to-use lever-action handle lets you dial any of the valve/filter functions.
Large pressure sand/water drain for rapid winterizing or servicing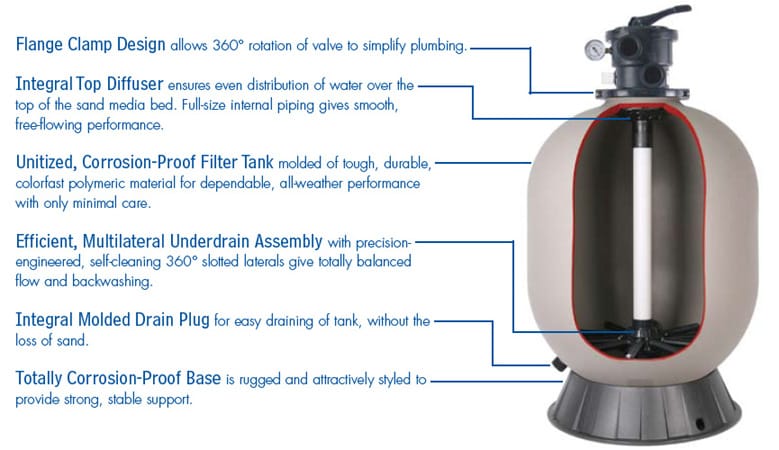 Excel Top Mount 24″ Sand Filter Tech Specs:
| Model Number | Valve | Sand Required | Dimensions Width Height | Ctn. Qty. | Ctn. Weight |
| --- | --- | --- | --- | --- | --- |
| Excel Professional Grade Sand Filter | 1 1/2″ | 300 lbs. | 24 1/2″ 42″ | 1 | 46 lbs |
| Model Number | Effective Filtration Area | Design Flow Rate | 8 Hours | 10 Hours |
| --- | --- | --- | --- | --- |
| Excel Professional Grade Sand Filter | 3.14 ft 2 | 62 GPM | 29,760 | 37,200 |
Pool Warehouse
Americas #1 online swimming pool kit retailer, buy your Excel Top Mount 24″ Sand Filter direct from Pool Warehouse! Selling Swimming Pool Kits, replacement swimming pool liners and safety swimming pool covers since 1998.
Open:
Phone: 800-515-1747
sales@poolwarehouse.com
Pool Warehouse, We Know In-ground Swimming Pool Kits!