Description
Hayward 31″ ProSeries Plus Side Mount Sand Filter
With all the ProSeries advanced features, ProSeries Plus filters are designed to meet the needs of the most demanding applications including large residential and semi-commercial pools, in-floor cleaning systems, solar heating systems and water features. Its spherical tank design evenly distributes the high pressure and stresses associated with these applications, resulting in greater strength and longer life.
Hayward 31″ ProSeries Plus Side Mount Sand Filter Features: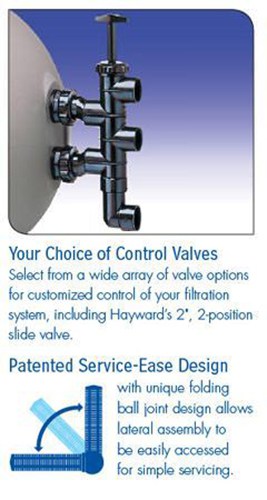 Durable, corrosion-proof materials for dependable all-weather performance
Heavy-duty, flanged inspection cover provides convenient access to top of filter
2″ internal piping for smooth, free-flowing performance
Automatic air relief purges trapped air during operation
Large pressure sand/water drain for rapid winterizing or servicing
Optional valve and coupling selections for plumbing ease and versatility
Precision engineered umbrella-fold self-cleaning laterals for balanced flow and backwashing
Hayward 31″ ProSeries Plus Side Mount Sand Filter Specs:
Hayward Model Number: S311SX
Effective Filtration Area: 4.95 ft 2
Flow Rate: 99 GPM
Maximum Working Pressure: 50 psi
Turnover: 8 Hrs: 47,520 Gallons / 10 Hrs: 59,400 Gallons
Sand Required: 350 lbs
Width: 31″
Height: 38-5/8″
Warranty: 1 Year Limited Manufacturer's Warranty
Have Questions?
If you have questions about the Hayward 31″ ProSeries Plus Side Mount Sand Filter, please feel free to give us a call at 1-800-515-1747 or send us an email, [email protected]
At Pool Warehouse, We Know Swimming Inground Pool Kits!