Description
Hayward ColorLogic 4.0 LED 120V Swimming Pool Light 100ft Cord
The Hayward ColorLogic 4.0 LED swimming pool light is sure to boost your inground pool's personality.  The ColorLogic 4.0 contains patented Chromacore technology that combines a microprocessor with the brightest LEDs available to deliver an extensive array of colors that offers hundreds of combinations, is sure to make your inground pool the nighttime hot spot.  ColorLogic 4.0 With Niche sets the industry standard for colored lighting and the best part is, the lighting is easy to install and is maintenance free.  The Hayward ColorLogic 4.0 is available with Niche or without the Niche.  This light is also available on all swimming pool kits sold by Pool Warehouse! Does not include Niche.
THE BEAUTY OF LED TECHNOLOGY
Universal ColorLogic® LED lights are 100% brighter* than current color LED lights, and 50% brighter than the leading competitors' standard SAm® light. But the real beauty is in the savings. Pool owners can upgrade from incandescent lights and save as much as 86% on energy costs. These LED lights last 20 times longer, virtually eliminating service calls for burned-out bulbs. There are no bulbs, filaments, color wheels or moving parts. *Based on measured test data at time of print.
THE SAFETY OF HAYWARD® LED TECHNOLOGY
Our 2-wire low voltage light is made entirely of high impact plastic with an unbreakable lens and no exposed metal components. These are all reasons why UL lists it for safe installation in virtually any niche.
Hayward ColorLogic 4.0 Features
50% brighter than Hayward ColorLogic 2.5
Speed, Motion and Brightness control for light shows
Operates stand alone or with Pro Logic
7 light shows and 5 fixed colors along with synchronized lighting
5 fixed colors can be customized to 101 different colors
Ability to synchronize two or more lights
Sealed unit requires no maintenance – no bulbs to change
Fits in Hayward's in-ground niches
Offers the industries only integrated safety feature of 15 seconds of white light at startup, for added convenience and peace of mind
Can be used on inground pools that have a vinyl swimming pool liner.
They Hayward ColorLogic 4.0 is simply the best swimming pool light on the market today!  If your buying a brand new inground pool kit please make sure to add this light as an option.  For New Construction ColorLogic 4.0 lighting incorporates innovation and technology as the leading underwater light. It provides brighter, more vivid colors and light shows that are energy efficient, with feature-rich options for pools and spas.  This light can be added to inground pool kits sold by Pool Warehouse.
Add Some Color To Your Pool!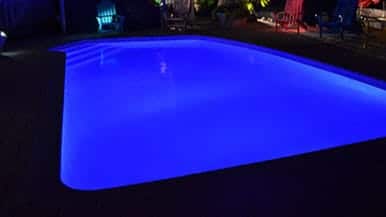 THE RANGE OF HAYWARD LED TECHNOLOGY
Universal ColorLogic Pool and Spa lights are available for two primary means of control; they can be controlled by simply toggling your standard light switch or by using your remote control. Networked models are designed for advanced orchestration and control when used with our Pro Logic® controller and when using Pro Logic, it allows you to customize color shows with speed, motion and 101 colors. Easily convert your 120V lighting system to low voltage using our transformer/J-Box retrofit kit available for the most popular J-Boxes. If you are planning for multi-light installations, the Hayward 300 watt transformer is the cost-effective solution for these new construction projects.
THE CAPABILITY OF HAYWARD LED TECHNOLOGY
These lights are UL listed for safe installation in virtually any niche, including Hayward, Pentair®, Jandy®, American®, Sta-Rite®, Purex®, Pacfab®, Swimquip® and CHD® niches. Universal ColorLogic is UL listed for wall and floor installation. For new installations, the revolutionary shallow pool niche that does not require to be bonded or grounded, allows you to further save costs on installation and materials necessary to install this light.
Hayward ColorLogic 4.0: The Colors
Seven Exciting Color Shows
Have Questions
If you have questions about our Hayward ColorLogic 4.0 LED 120V Swimming Pool Light 50ft Cord please feel free to give us a call at 1-800-515-1747 or send us an email, sale@poolwarehouse.com.
At Pool Warehouse, We Know Swimming Inground Pool Kits!