Description
Hayward HeatPro Heat Pump 120,000 BTU (Heat/Cool)
Extend your pool season with a Hayward HeatPro Heat Pump 120,000 BTU.  Quiet and economical, heat pumps use the outside air and a titanium heat exchanger to generate heat for a fraction of the cost of gas. The Hayward HeatPro Heat Pump 120,000 BTU is a high-efficiency heater that gives you the ideal water temperature while using 80% less energy than natural gas heaters. It offers an alternative way to heat your pool that is safe, reliable and energy efficient. It takes the heat from the surrounding air and uses it to warm the water in your pool eliminating wasted energy. It's digital LED control panel provides an easy-to-read temperature display and shows diagnostic codes for quick identification of components that might need service. With its precision electronic temperature control, the perfect water temperature is constantly maintained, providing continued energy savings.

Would you like to keep your pool open all year round?  With the Hayward HeatPro Heat Pump, you can heat your inground or above ground pool year round and save up to 80% in operating costs.  The HeatPro Heat Pump gives you the best control over your water temperature while keeping your power bill at a low cost.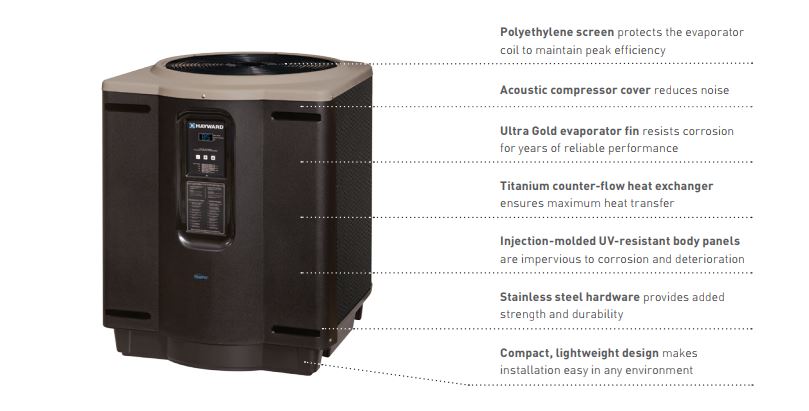 Hayward HeatPro Heat Pump 120,000 BTU Features:
Titanium Heat Exchanger – excellent salt water and chemical corrosion resistance
Exclusive 'Ultra Gold' evaporator coil corrosion resistant especially in coastal areas
Quiet operation – quiet backyard environment
AHRI certified performance – independent lab certified performance ensures the value of the purchase
2in x 2 1/2in CPVC union plumbing connections – a common union for installation or service, adapts to larger plumbing recommended for greater efficiencies
Lightweight – less than 250 lbs.
Hayward HeatPro Heat Pump 120,000 BTU Product Warranty:
2 Year Warranty on manufacturer defects
5 Year Warranty on Compressor
10 Year Warranty on Titanium Tube
Have Questions
If you have questions about the Hayward HeatPro Heat Pump 120,000 BTU, please feel free to give us a call at 1-800-515-1747 or send us an email, [email protected]
At Pool Warehouse, We Know Swimming Inground Pool Kits!