Description
Hayward Perflex D.E. Filter 20sqft
Perflex Extended-Cycle diatomaceous earth (DE) filters provide crystal clear, sparkling water at an economical price. Proven over many years, Perflex has set the standard in swimming pool filtration by incorporating the Flex-Tube™ design in combination with diatomaceous earth, the most effective filter media available. The result is superior water clarity, extended filter cleaning cycles – and no backwashing required.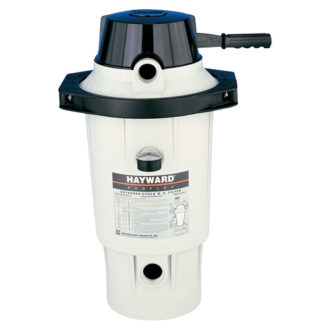 Hayward Perflex D.E. Filter 20sqft Features:
Cleans pools fast – removes even the smallest particles the first time through
Patented Flex-Tube system efficiently reuses DE powder and dirt mixture to form fresh cleaning surfaces
Exclusive bump handle activates the Flex-Tubes, causing them to instantly purge themselves of dirt and powder
Easy access clamp assembly
Hayward Perflex D.E. Filter 20sqft System
Filtration Area: 20 sqft
Filtration Rate: 40 gpm/sq-ft
Filter: EC40AC
Turnover: 19200 gal at 8 hrs, 24000 gal at 10 hrs
Pool Warehouse
Americas #1 Source For All Your Backyard Needs, Online Since 1998!
Open: Monday-Friday 9am-6pm
Phone: 800-515-1747
Email: sales@poolwarehouse.com
Pool Warehouse, Making Backyard Dreams Come True!