Description
Hayward Swim Clear Inground Pool Filter C5030
Hayward Swim Clear Inground Pool Filter large-capacity cartridge filter series offers increased filtration area for a bigger, better clean.  Utilizing a cluster of four reusable cartridge elements, Swim Clear filters offer a choice of 225, 325, 425 or 525 square feet of heavy-duty dirt-holding capacity for extra-long cleaning cycles, up to an entire season without cleaning!  With filter tanks constructed of improved Perma Glass XL material, Swim Clear filters will provide years of trouble-free operation and crystal clear, sparkling water-all season long.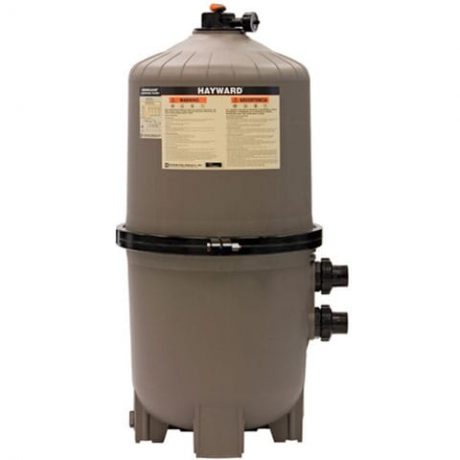 Hayward Swim Clear Inground Pool Filter C5030 Features:
High capacity, rapid release manual air relief valve bleeds air with a quick quarter turn of the lever
Filter tanks made from durable glass reinforced copolymer to meet the demands of the toughest applications and environmental conditions, including in-floor cleaning systems
Self-aligned tank top and bottom make access to servicing the Quad-Cluster™ cartridge elements fast and simple
Heavy-duty, tamper-proof one-piece clamp securely fastens tank top and bottom. Allows quick access to all internal components without disturbing piping or connections
Non-corrosive top closure plate prevents elements from lifting and allowing unfiltered water to by-pass into pool or spa during operation
Quad-Cluster™ of high-quality polyester cartridge elements provide 225, 325, 425 or 525 square feet of filter area for extra dirt-holding capacity and long, long filter cycles
2″ full-flow internal piping and plumbing for less resistance to flow and maximum performance
PVC union coupling connection accepts 1 1/2″ or 2″ piping for plumbing versatility
Full size 1 1/2″ integral drain allows for fast, 100% clean-out and easier flushing of tank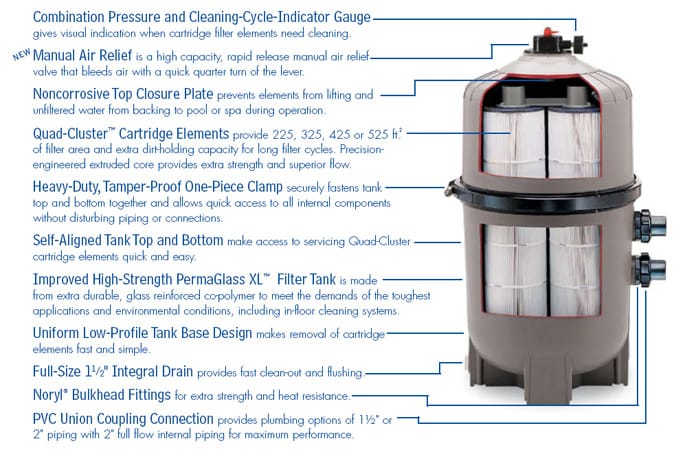 Turnover (in Gallons)
| Model Number | Effective Filtration Area | Design Flow Rate | 8 Hours | 10 Hours |
| --- | --- | --- | --- | --- |
| C5030 | 525 ft2 | 150 GPM | 72,000 | 90,000 |
Have Questions
If you have questions about the Hayward Swim Clear Inground Pool Filter C5030 please feel free to give us a call at 1-800-515-1747 or send us an email, [email protected]
At Pool Warehouse, We Know Swimming Inground Pool Kits!