Description
Hayward SwimClear 150 Sq Ft Cartridge Filter
The Hayward SwimClear 150 Sq Ft Cartridge Filter captures more dirt for superior water clarity without the need for supplemental media or backwashing. SwimClear is also easy to service: the Easy-Lok ring design, comfort grip handles, and lowest lift height provides fast cleaning and element replacement. SwimClear is an excellent filtration solution for smaller and mid-size pools, spas and water features.
Hayward's SwimClear Single Element Filter is efficient and uses easy to service cartridge filters. Its recessed gauge and air-relief combined with Easy-Lok ring design make servicing a breeze. The tangential entry port and internal design make it the most hydraulically efficient filter reducing the load on the pump and minimizing energy consumption. For energy savings, reliable performance, and the ultimate in service ease, the choice is crystal clear: SwimClear.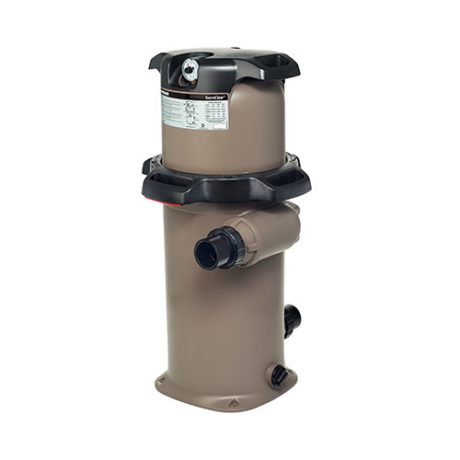 Hayward SwimClear 150 Sq Ft Cartridge Filter Features:
Industry-leading hydraulic efficiency allows the pump to run at a lower speed or for less time, increasing energy savings

Easy-Lok ring design allows quick access to internal components for quick and simple maintenance

Recessed pressure gauge and manual air relief enables the user to place head assembly upside down on the pool pad, protecting the seal from contamination

2″ x 2 1/2″ union connections make installation and servicing fast and easy

C150S
Pool Warehouse
Americas #1 online inground swimming pool kit retailer! Call with questions about our Hayward SwimClear 150 Sq Ft Cartridge Filter.
Open: Monday-Friday 7am-6pm
Phone: 800-515-1747
[email protected]
Pool Warehouse, We Know In-ground Swimming Pool Kits!