Description
Solar Inground Pool Cover
A Solar Inground Pool Cover is perfect for the pool owner who was to cut their pool's heating cost by 70% and extend their swimming season.  This pool cover minimizes convective heat loss which keeps your pool warmer and cuts water evaporation by up to 95%.  These covers effectively keep your water 10 – 15 degrees warmer!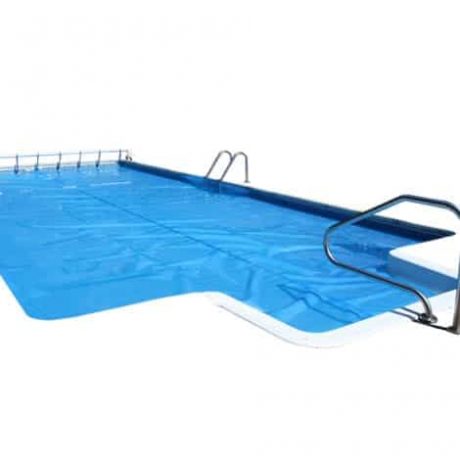 Also known as in-ground solar pool blankets, solar covers for inground pools essentially function as a vapor barrier.  Imagine attempting to heat your home with all the doors and windows open and you will be able to understand the significance of heating your pool without a solar pool cover.  Not using solar pool blankets for in-ground pools is an incredible waste of money and energy which means it is not only bad for your checkbook but also bad for the environment.  Investing in a high-quality solar inground pool cover is a necessity for any pool owner who wants to protect their pool and the environment all while saving money.
In addition, solar inground pool covers and reels can help to capture heat from the sun to make your pool warmer.  In a sense, you are killing two birds with one stone: you are preventing heat loss through evaporation as well as promoting warming by capturing heat from the sun.  Solar covers for inground pools are therefore a versatile accessory for your pool that saves energy and prevents dirt and debris from entering your pool.  They are relatively inexpensive and inground solar pool covers are also easy to use. Stop wasting your money and invest in a high quality inground solar pool cover.
Have Questions
If you have questions about our Solar Inground Pool Cover please feel free to give us a call at 1-800-515-1747 or send us an email, sale@poolwarehouse.com.
At Pool Warehouse, We Know Swimming Pools!