At Pool Warehouse, we believe that you should spend more time enjoying your swimming pool than you do taking care of it.  We've made that possible with the Aqua Genie for inground pool kits.  Our complete swimming pool maintenance system has proven to be the best choice in inground pool kit cleaning and maintenance for over 20 years.  It's simple yet sophisticated design saves you time and money- something no one else can provide.  Homeowners with an Aqua Genie see a 67% reduction in pool maintenance and cleaning time—meaning more time in your pool and less cleaning it!
The Aqua Genie for inground pool kits provides maximum cleaning benefits previously neglected by other out-of-date skimmer systems.  The Aqua Genie's two-pipe installation system is as easy as it gets.  One pipe runs from the Aqua Genie to the filter and another pipe returns from the filter to the Aqua Genie.  This amazingly uncomplicated design means installation is easy and less expensive.
The Secret Behind The Aqua Genie's Magic.
The Aqua Genie's circulation pulls more dirty water into the filter than other systems, using less water and saving money.  Less water means lower-power pumps can be used, which saves you even more money with a lower electrical bill.
The Aqua Genie for inground pool kits not only saves money but also saves time.  Each unit contains an advanced pressure chamber that drives filtered water to the bottom of the pool so dirt and debris are prevented from settling at the bottom.  This constant current of fresh water forces debris of all types back to the surface and into the skimmer for a quick vacuum — you save time and won't even get your hands wet!  As an added bonus, the Aqua Genie's constant water circulation means that your pool water will remain at a constant temperature from the surface of the pool straight to the bottom!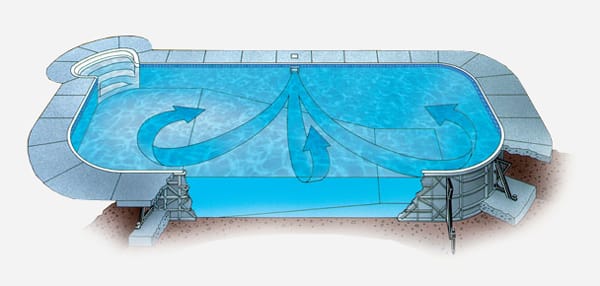 Aqua Genie Plumbing Ideas
1 Aqua Genie Skimmer
2 Aqua Genie Skimmers
Cleaning Your Pool Kit Just Got Easier!
The Aqua Genie's leaf basket is oversized for maximum debris storage and also has a unique anti-clogging design so the pump is never starved, even at low water levels.  You'll spend more time swimming and less time with a net in your hand.
Hate measuring and adding caustic chemicals to your pool?  With the Aqua Genies convenient, refillable, chlorine cartridge you can now safely and quickly add chlorine tablets to your pool.  Simply unscrew the lid and fill the canister with most any size chlorine tablet.  The Aqua Genie for inground pool kits also makes chemical treatment and chlorination is effortless.  With our new patent pending chlorine control valve, there's no need to walk back and forth from your pool to pump house to make chemical adjustments…users can simply adjust the amount of chlorine distributed through the whole pool just by turning the dial on the Aqua Genies onboard chlorine valve.  This innovative poolside adjustment will not only save you time but money on costly chemicals.
When you combine the Aqua Genie's water circulation technology with its chlorine canister system and poolside chlorine control valve you can ensure healthy, crystal-clear water without over-chlorination.
Winterizing Your Aqua Genie Is Easy!
Do you wish winterizing your inground pool kit was quick and easy?  With the Aqua Geni,e it can be.  The Aqua Genie's new patent pending Winter Cover uses a built in neoprene gasket to close off the front faceplate for a complete watertight seal.  The Aqua Genie's suction fittings are also threaded from the inside allowing "Gizmo's" to easily be used when winterizing.  This unique cover design will not damage your Swimming Pool Liner.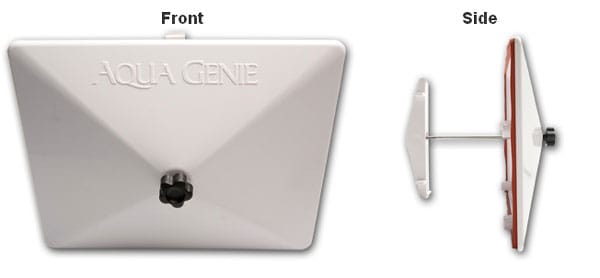 The Aqua Genie for inground pool kits from Hydra Pools has a twenty year track record of pool cleaning perfection, so you can rest assured that the Aqua Genie is the most reliable and comprehensive method of cleaning your inground pool kit.  That makes Aqua Genie the best friend your swimming pool has ever had.
Do you want to save time and money? – Do you want to spend more time relaxing in your swimming pool? 
With the Aqua Genie for inground pool kits, your wish is granted!
Have Questions
If you have questions about the Aqua Genie for inground pool kits please feel free to give us a call at 1-800-515-1747 or send us an email, [email protected]
At Pool Warehouse We Know Swimming Inground Pool Kits!