Inground Swimming Pool Kits
Our inground swimming pool kits have been going into backyards across America since 1998!
Pool Warehouse has a 18 year, time tested, track record of complete customer satisfaction. We offer over 200 standard swimming pool shapes that fit perfectly into any back yard. We also offer completely customizable inground swimming pool kits; simply put – if you can imagine it, we can design it! All of our steel wall and polymer wall inground swimming pool kits come with free shipping and all the installation equipment needed to get your new pool kit up and running like a dream. Simply click on our steel wall or polymer wall pool kit options to start shopping for your new in-ground swimming pool kit!
Polymer Vs Steel Wall Inground Pool Kit Comparison
One common question we are always asked is, steel wall vs polymer wall inground pool kits, which is better? So we've decided to provide a quick comparison between the two that will help you decide which pool kit is best for your family. For starters the differences between the two different styles of pool kits are only minor and both pool wall systems are built to last a lifetime. For the last 16 years Pool Warehouse has exclusively sold only premium pool kits manufactured by Hydra Pools. Hydra has been manufacturing swimming pool panels and braces since 1984 and is the exclusive manufacture of our unique Cornerstone Polymer and Steel wall Panel, which 100% American made. When you combine Hydra's quality and years of manufacturing experience with Pool Warehouse's sales and service your guaranteed to have the swimming pool you've always dreamed of!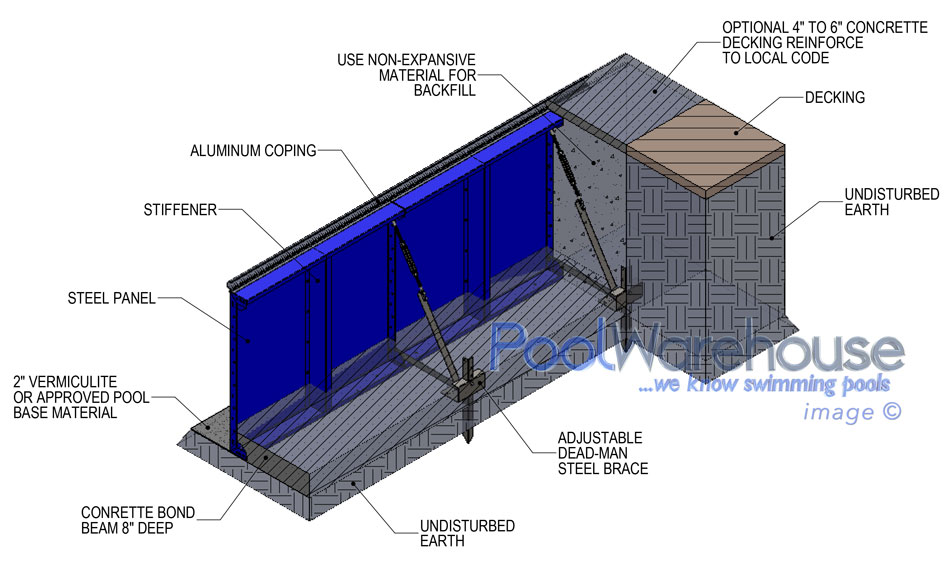 As a base material, steel walls are stronger than polymer walls however with that strength comes weight. steel is much heavier in making the wall panels more cumbersome when moving around.
As a base material Polymer is much lighter weight than steel and easy to handle when working alone.
Steel wall panels are treated with a G-235 zinc rust preventative coating. This is the strongest galvanization process in the industry and is the highest rated galvanization that steel can be treated with.
Polymer pool wall panels require no galvanization process and over time offer superior corrosion resistance.
Steel offers much more flexibility in custom design features as bent radius and custom steel steps are easier to make.
Polymer panels cant be bent and cannot be used to make some tight radius's.
Never Use Steel Braces With A Polymer Wall Pool Kit As This Will Void Your Warranty With The Manufacture.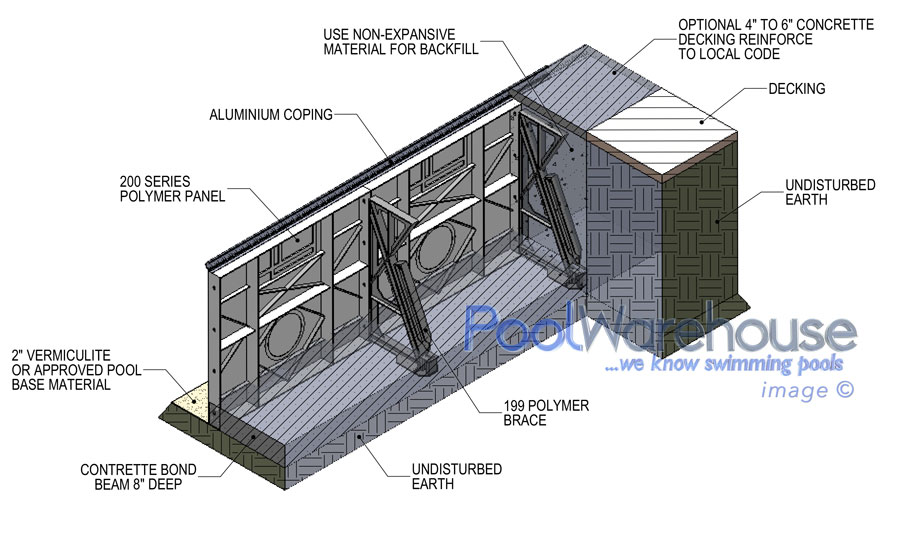 Inground Swimming Pool Kit Layway Now Available!
Lay Away Is Here! Pool Warehouse is happy to be offering our interest free, in-ground swimming pool kit layaway program! Take advantage of Lay Away and lock in 2014 pricing. Paying is easy simply take your pool kit order total, which will include the shipping, and divide it by one of our 2 payment options, 6 month or 12 months.  Remember there is zero interest so relax take your time and start planing that perfect backyard getaway. Make sure to remember there is no penalty for early pay off and you are certainly welcome to do so at any time. Due to the constant fluctuations in vinyl liner availability your swimming pool liner selection will be made when sending in your final payment. Once your final payment has been made your pool kit will be promptly shipped to you within ten business days.
Shop now, Buy Now & Pay Over Time!
Fiberglass Pool Kits
We also offer completely prefabricated fiberglass in-ground swimming pool kits for those interested in a completely perfabed pool. Note: our fiberglass inground swimming pool kits do not offer free shipping.
Make sure to remember that all of our Polymer & Steel inground swimming pool kits come packaged with a pool liner of your choosing and with all the equipment necessary for installation. For a complete equipment list, to view our pool liners or price our fiberglass pool kits just follow the links below.
Best Price Guarantee
Pool Warehouse is North America's largest direct wholesaler of inground swimming pool kits and swimming pool liners, we simply sell more pool kits and pool liners a year than any other company. Because we buy in such volume we are able to offer our exclusive Best Price Guarantee!
With over 15 years of online pool sales experience you can feel confident that Pool Warehouse is the #1 source for buying inground swimming pool kits online! Our in-ground pool kits are 100% American made by Hydra Pools and usually ship in less than 1 week! Give as a call 1-800-515-1747 or email sale@poolwarehouse.com if you have questions about our inground swimming pool kits!
25,585 total views, 4 views today