Cornerstone Steel Wall Inground Swimming Pool Kits
Cornerstone Steel Inground Pool Kits are available in unlimited shapes and sizes, from simple to fabulous we can turn your backyard into your own private resort.  Pool Warehouse offers hundreds of Standard inground pool kit shapes that fit perfectly into any backyard…but if you want something extraordinary, we can custom design almost any shape or size swimming pool kit that you and your family might imagine!  All of our inground pool kits come with a vinyl swimming pool liner with a free 20 year warranty and all the equipment needed for installation.  At any point during the selection process if you have questions about an inground pool kit or just want to talk about options please feel free to give us a call at 1-800-515-1747.
Steel Inground Pool Kits Built To Last A Lifetime!
Cornerstone Steel Swimming Pool Kit Panels Are Made From the highest quality Steel.
All Pool Kit Panels Are Coated with G-235 – The Highest Rust Preventing Zinc Coating Available. This Is The Strongest Galvanization Process In The Industry And Is The Highest Rated Galvanization That Steel Can Be Treated With.
5″ Top and Bottom Flange for strength and all pool kit panels have a 42″ height.
Watch To Learn More About Our Cornerstone Steel Wall Inground Swimming Pool Kits.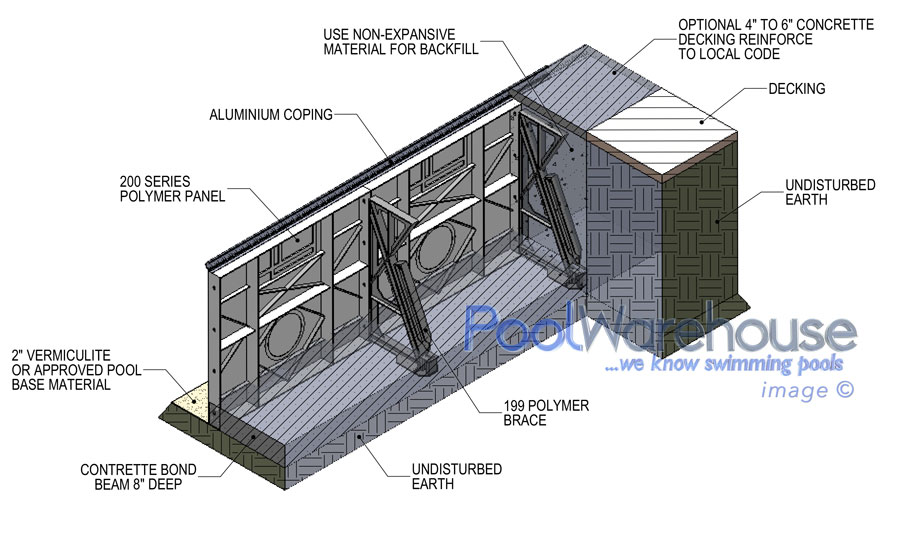 Custom Steel Inground Pool Kit Steps & Panels
Hundreds of swimming pool size and shape combinations to chose from simply click Swimming Pool Kits to create your unique swimming pool kit from scratch.  Also make sure to give us a call with any questions you might have, 800-515-1747
Remember you get Free Shipping on all inground pool kits!
Interested in having a truly unique custom step for your swimming pool kit?  We can build anything from a 12 ft. roman end step with a sun ledge to a bench seat running the full length of your swimming pool kit, if you can imagine it we can build it!  Just let us know what your thinking and we can added to your pool kits order.  We can also have custom panels made specifically for almost any inground pool kit shape or size…so if you're wanting a custom lagoon style swimming pool kit or a design all your own feel free to give us a call and will help you lay out the design, 1-800-515-1747.
Pool Warehouse doesn't sell "Economy" Inground Pool Kits that are missing essential parts or come with sub standard equipment that will need to be upgraded later.  All of our in ground Polymer Pool Kits come standard with Premium Hayward Pool Equipment Products and top of the line 100% American Made Hydra Pools!  Pool Warehouse offers a complete line of Hydra polymer and steel wall inground pool kits, both swimming pool kits will come with all the equipment need for installation.
You Are Only Limited By Your Imagination!
Pool Kit Questions
If you have questions about any of our inground pool kits please feel free to give us a call at 1-800-515-1747 or send us an email, sale@poolwarehouse.com.
At Pool Warehouse, We Know Swimming Inground Pool Kits!
8,513 total views, 6 views today