Round Swimming Pool Kits
At Pool Warehouse we include all of the necessary equipment needed to completely install any of our round swimming pool kits. All of our in-ground pool kits come with a 20 year warranty on the swimming pool liner of your choice, that warranty comes at No Extra Cost to you! Our round swimming pool kits are American made and the perfect project for any do-it-yourselfer who wants to save money on a new pool!
Call 1-800-515-1747 and our Round pool kit pros can walk you through the quoting process!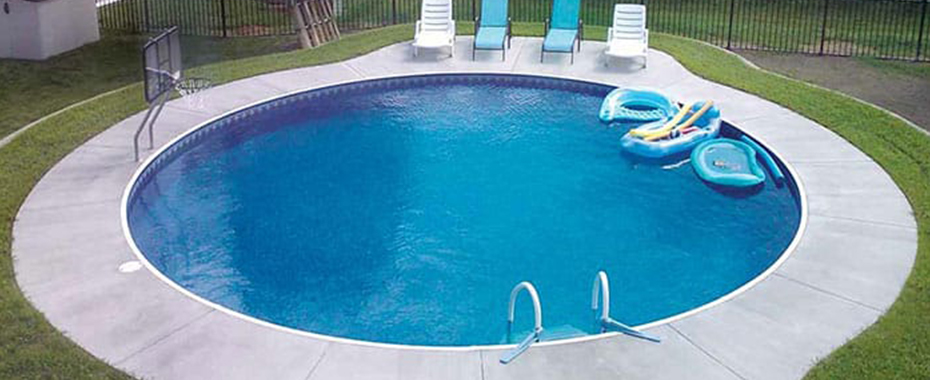 Size
42" Steel
Polymer
Shop
18' Round Pool Kit
(designed up to 4'6"deep)
$4,995.00
$5,495.00
Build Quote
24' Round Pool Kit
(designed up to 4'6"deep)
$5,395.00
Call For Quote
Build Quote
27' Round Pool Kit
(designed up to 4'6"deep)
$5,995.00
$6,895.00
Build Quote
30' Round Pool Kit
(designed up to 4'6"deep)
$6,495.00
$7,395.00
Build Quote
Round Swimming Pool Kits
Replacing An Existing Above Ground Pool Is Easy!
Wanting to replace an existing round above ground swimming pool with an in-ground pool kit?  No problem! We get calls like this every day and we can easily design almost any size inground pool to fit your old above grounds shape and size. Replacing an existing above ground pool kit is easy, simply give us a call and we will help you determine what pool kit size is right for you.
Swimming Pool Kit Equipment
Premium Round Swimming Pool Kits
Pool Warehouse doesn't sell "Economy" Round Swimming Pool Kits that are missing essential parts or come with sub standard equipment that will need to be upgraded later. All of our in ground Polymer Pool Kits come standard with Premium Pool Equipment and top of the line Swimming Pool Panels! Pool Warehouse offers a complete line of polymer and steel wall pool kits, both pool kits will come with equipment need for installation. Also we take care to buy and use American made products in all of our pool kits. Every pool kit wall panel (steel or polymer) and every vinyl swimming pool liner has been manufactured in the USA.
If you have questions about our Round Swimming pool kits, need help navigating the site or just have a general swimming pool related question, please feel free to give us a call at 1-800-515-1747 or send an email, [email protected]
At Pool Warehouse We Know Round Swimming Pool Kits!