Description
2.5HP Hayward Super Pump In-Ground Pool Pump
Super Pump® is the world's best-selling medium head pool pump. Efficient, dependable and proven, it has set the standard for excellence and value. Also available in our exclusive Expert Line addition as the Super Pump 700 which includes additional features, such as an enhanced totally enclosed fan-cooled motor design and top-mount wiring compartment for easy installation.
High Performance, Quiet Operation
The Hayward Super Pump features an innovative build, including a high-performance motor with airflow ventilation, designed for silent and cooler operation that will help expand its lifespan.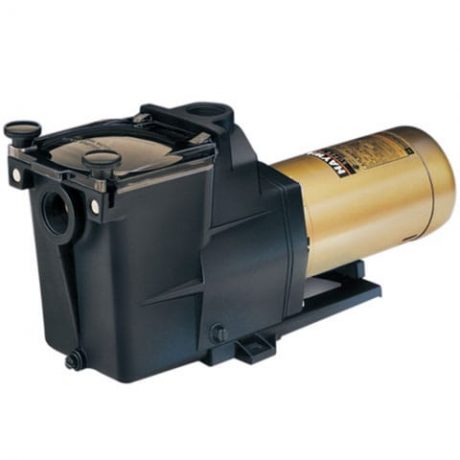 2.5HP Hayward Super Pump In-Ground Pool Pump Features:
The industry's workhorse recognized for reliability and performance
Available in single or two speed models with a selection of voltage and horsepower options
Exclusive swing-away hand knobs makes for easier strainer cover removal: no tools required, no loose parts and no clamps
Oversized debris basket has extra leaf holding capacity for less frequent maintenance
Easy installation and servicing with quick 4-bolt access to internal components
2.5HP Hayward Super Pump In-Ground Pool Pump Details:
Dimensions: 7-5/8"W x 10-7/8"H x 24"L
Self-priming (suction lift up to 8′ above water line)
Pipe size: 1-1/2"
115V/230
Super-size 110 cubic inch basket
Exclusive, swing-away hand knobs
See-through strainer cover
Corrosion-proof thermoplastic construction
Heat-resistant, industrial-size ceramic seal
Heavy-duty high-performance motor
Included mounting base
One (1) Year Limited Warranty on Product, see Owner's Manual for a full description of warranty claims and coverage details.
*Pumps and replacement motors that are single speed and one (1) TOTAL HP or greater cannot be sold, offered for sale, or installed in a residential pool for filtration use in California, Title 20 CCR sections 1601-1609.
Pool Warehouse
Americas #1 Source For All Your Backyard Needs, Online Since 1998!
Open: Monday-Friday 9am-6pm
Phone: 800-515-1747
Email: [email protected]
Pool Warehouse, Making Backyard Dreams Come True!