Description
21′ x 41′ Oval 52″ Deep Sterling Above Ground Pool Kit
A 21′ x 41′ Oval 52″ Deep Sterling Above Ground Pool Kit provides the strength of steel verticals and steel top rails – the perfect match for your backyard. Sterling pool walls are hot-dipped galvanized copper bearing steel in a soft elegant Sterling pattern. They are corrugated for flexibility and vertical strength. 9″ curved, extruded steel top-rail system with injection-molded top connectors. 9″ Verticals are made from rugged, baked enamel Steel. Made from silver-toned colored resin, the top connectors feature handy drink holders
Features You Will Love!
52″ Steel Pool Walls
Top Seat – 9″ Wrap-Around Steel Top Rails
Top Track – Steel
Top Connector – Resin
Bottom Track – Steel
Bottom Connector – Resin
Uprights – Steel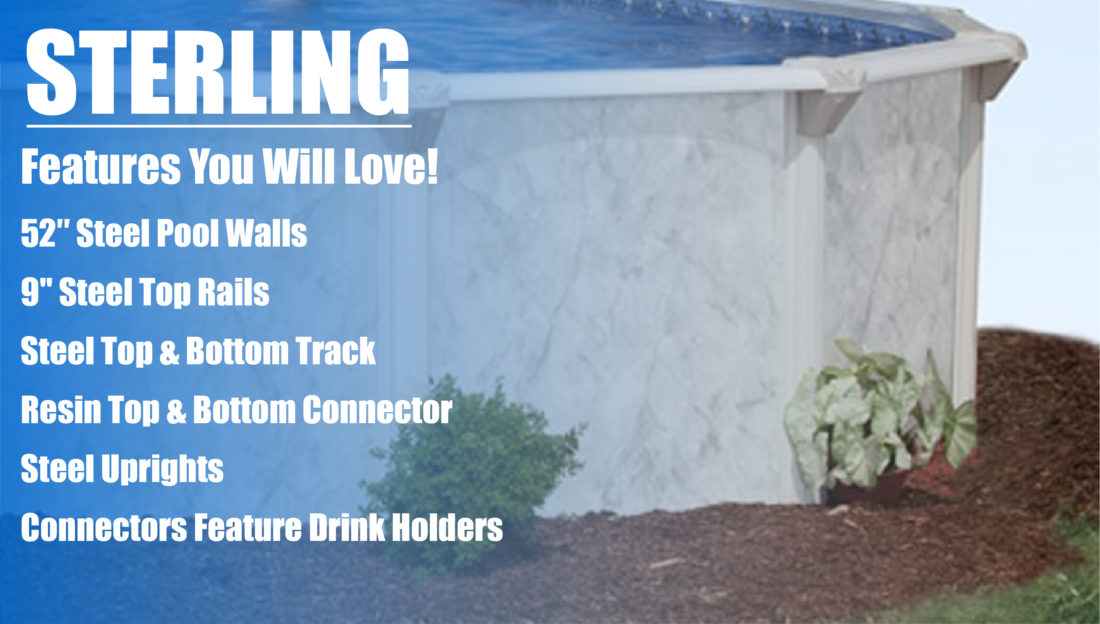 The Sterling is Not intended for diving. These above ground pool kits are designed for swimming only.
DO IT YOURSELF INSTALLATION! If you're handy with a screwdriver, then you can easily assemble your own Sterling above ground pool kit! We've designed each pool to make installation problem-free — no multi-sized washers or nuts to worry about. Just one large screw type is used to assemble the entire pool and we provide easy-to-follow instructions.
Free Shipping To 37 States On All Above Ground Pool Kits!
The price indicated is the entire price to have your order delivered to your curb by common carrier truck delivery. The driver is not required to unload (although most will help) so you should have some help available to unload your order. Free shipping applies to 37 States in the continental USA. Pool Warehouse carries only the best above ground pools!
Pool Warehouse
Americas #1 source for a 21′ x 41′ Oval 52″ Deep Sterling Above Ground Pool Kit! Selling in-ground pool kits, in-ground swimming pool liners, above ground pool liners, above ground pool kits and safety swimming pool covers since 1998.
Open: Monday-Friday 7am-6pm
Phone: 800-515-1747
At Pool Warehouse, We Know In ground Swimming Pool Kits!