Description
DEL AOP 25 Advanced Sanitizer System
The DEL AOP 25 Advanced Sanitizer System provides residential pool owners with the clean and safe water they need to safeguard their pools from organic contaminants such as bacteria, viruses, pathogens – including Cryptosporidium – as well as inorganic contaminants such as suntan lotions and perfumes.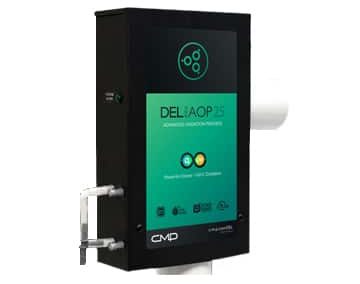 DEL systems are energy efficient, take the fuss out of balancing water chemistry, destroy 99.9% of contaminants, and highly reduce chemical usage for in-ground and above-ground pools. All DEL systems are also designed for easy installation on both new and existing residential applications. Through the combination of Corona Discharge Technology, Germicidal UV Light, and DEL's Advanced Plasma Gap technology, the DEL AOP lineup provides Advanced Oxidation Process in truly robust units.
DEL AOP 25 Advanced Sanitizer System Details:
AOP POWER FOR SMALLER POOLS
TREATS POOLS UP TO 25,000 GALLONS
LIGHTWEIGHT AND COMPACT DESIGN
Destroys 99.9% of Harmful Contaminants
Oxidizes Cryptosporidium parvum, Giardia, and Other Chlorine Resistant Microorganisms
Reduces Chemical Demand
Increases Effectiveness of Residual Sanitizers
Eliminates Chemical Odors, Irritations, and Will Not Damage Pool Systems
The AOP25 is a very small AOP system for low flow applications of 20gpm or lower
DEL AOP 25 Advanced Sanitizer System Features:
Patented APG Ozone Cells
Germicidal UV-C Lamp
20 GPM Max Flow Rate
110/240 VAC Universal Voltage
Wall or Post Mount
UL, cUL Certified
CSA/NEMA 3 Enclosure
MDV-10-08 Kit Available
DESTROY CHEMICAL RESISTANT BACTERIA Some of the most dangerous pool contaminants are also resistant to chlorine and other chemicals. Organisms such as Cryptosporidium require long-term exposure to high chlorine levels to be destroyed. AOP oxidizes these types of contaminants for a safer pool.
WORK WITH YOUR RESIDUAL FOR THE BEST PERFORMANCE micro-sanitizing the water. AOP even breaks down chloramines that increase demand and add to unpleasant pool smells. Working together, residual and AOP creates a complete modern pool system.
REDUCE CHEMICAL DEMAND By allowing AOP to work at quickly oxidizing organic and inorganic compounds, chlorine is free to work better. This reduces the chemical demand and greatly reduces the amount of chemicals that have to be added to the water. Every pool can experience a reduction in chemicals and a reduction in the annual chemical costs.
Plasma Gap™ (APG) ozone cells that last longer and outperform UV and traditional CD style ozone generation.
All DEL products are quality certified through a multi-step process to ensure seamless operation and complete customer satisfaction.
DEL products are environmentally friendly, reduce dependence on chemicals and are safe for every pool.
Pool Warehouse
Americas #1 Source For All Your Backyard Needs, Online Since 1998!
Open: Monday-Friday 9am-6pm
Phone: 800-515-1747
Email: [email protected]
Pool Warehouse, Making Backyard Dreams Come True!