Description
Hayward OmniLogic Swimming Pool Control System
Introducing Hayward OmniLogic – the simplest, most intuitive backyard automation system ever.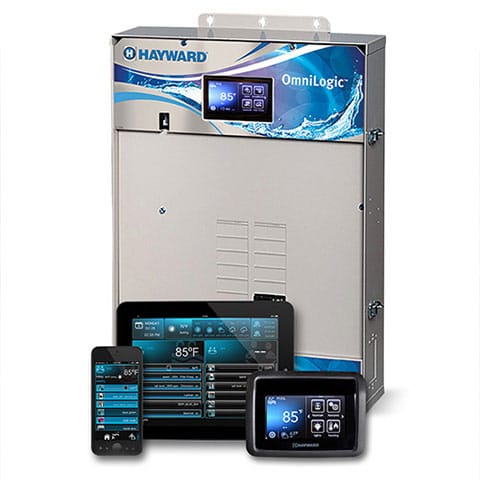 Any pool or pool/spa combination
Built-in touch display for easy configuration and programming
Wired full-function touch screen wall-mount display for indoor or protected outdoor use
Salt ready – Optional TurboCell: 15,000, 25,000 or 40,000 gallon depending on pool size
Ability to add a relay bank and 2 individual relays for a total of 6 additional relays for further feature control
Hardwire with Cat 5 Ethernet cable or Go wireless/mobile by purchasing optional Wireless Network Antenna
Mobil App With Full Touch Screen Controls
Pictured Phone, Tablet or Remote Not Included
With Hayward OmniLogic, you can expect to:
Eliminate complexity. With the most intuitive, icon-based user interface on the market right on the base unit, set your controller to fit YOUR needs and preferences quickly and easily. Setting up familiar names for pool and spa features, as well as other automated activities eliminates guessing games.
Customize to fit your lifestyle. Adjustable Favorites buttons allow you to set the features you use the most at your fingertips. And with dramatically expanded backyard themes, each family member has the ability to personalize themes for custom ambiance.
Minimize Maintenance. Designed to be salt-ready, and compatible with Sense & Dispense, let OmniLogic keep your chemicals perfectly balanced. Easily set schedules and maximize energy efficiency for cleaning and filtration processes.
Easily Expand. Thinking about adding a water feature? Possibly more landscape lighting? OmniLogic can accommodate you. With simple expansion hardware, it's easy to seamlessly add features – from heaters to pumps to lighting.
Stay Cutting Edge. OmniLogic is designed and engineered to advance with automation technology. The system's unique architecture allows for effortless access to the latest software upgrades, new capabilities, or even restoration of previous configurations.
Conveniently control your world. Seamlessly access your backyard via your mobile device, smart tablet, home network, wireless and wired remotes, or the base unit itself depending on where you are or what you're doing.
When you choose Hayward OmniLogic, you choose to make your backyard easier to maintain and easier to enjoy!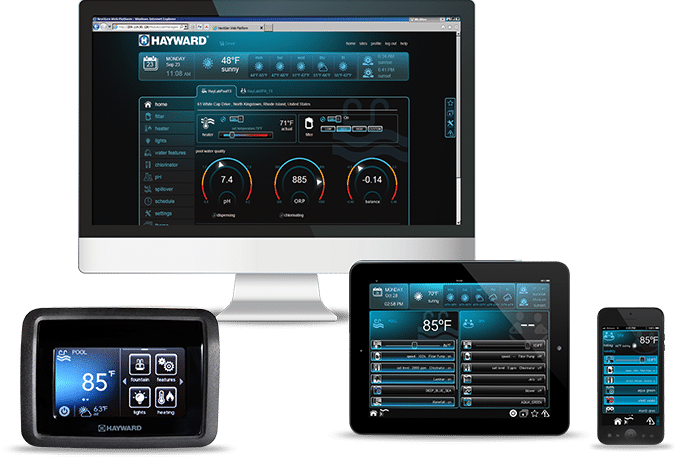 Uniquely intuitive. Hayward OmniLogic lets you control nearly every aspect of your backyard from anywhere. Its icon-based touchscreen interface is unmatched in the industry, and with apps for iPhone®, iPad®, and Android™, everything from turning up the heat on your spa to setting the theme for your next backyard party can be achieved with a single touch.
Flexible as water. The Hayward OmniLogic modular system architecture offers the flexibility and scalability needed as your backyard evolves through the years. Want to add a heater? A porch fan? Landscape Lighting? Now you can seamlessly and painlessly add devices with easy plug-and-play expansion.
Plugged into the future. Stay on the cutting edge of automation technology with OmniLogic's unique USB feature, which allows you to upload new capabilities or install and restore configurations—no more costly, time-consuming upgrades necessary.
Built for your needs. Customize Hayward OmniLogic to fit your family's unique personality. Set up to 50 Favorites icons to access the features and functions you use most, quickly and easily. Build up to 25 customizable themes to create the atmosphere for a romantic evening or a lively pool party, all with the touch of a button.
What You Will Need To Add Salt To Your Hayward OmniLogic System
Hayward T-cell (15k, 25k or 40k)
Hayward P Kit (Flow Switch)
Want To Automatically Add Chemicals With Your Salt System? Add Optional Sense & Dispense For Automatic Chemical Disbursements.
*Smart Phone, iPad or any Remote Control devices not included.
Pool Warehouse
Americas #1 online swimming pool kit retailer! Selling the Hayward OmniLogic Swimming Pool Control System, in-ground pool kits, in-ground swimming pool liners and safety swimming pool covers since 1998.
Open: Monday-Friday 7am-6pm
Phone: 800-515-1747
At Pool Warehouse, We Know In ground Swimming Pool Kits!