Description
Hayward PowerFlo Matrix 1.5HP 2 Speed Pool Pump
The Hayward PowerFlo Matrix 1.5 HP 2-Speed Pool Pump has been engineered as a uniquely superior above-ground pool pump. With a single push of a button, this truly versatile pump changes from a vertical to a horizontal discharge and back again. Its large profile and integrated styling make the PowerFlo Matrix a swimming pool pump like no other.
Matrix pumps feature an industrial-size strainer basket which collects a large amount of debris without a lot of maintenance. The high-quality Noryl impeller features wide openings which prevent clogs from leaves and other debris. This impressively equipped pump is also very efficient featuring a heat-resistant, double-size seal and a protected rear-mounted switch for high energy efficiency. Its heavy-duty, high-performance motor provides years of trouble-free operation thanks to an integrated automatic thermal overload protector.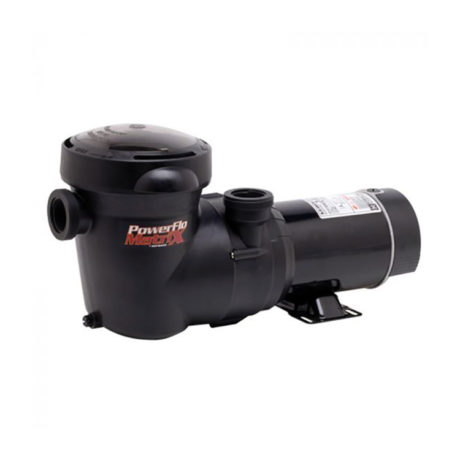 Hayward PowerFlo Matrix 1.5HP 2 Speed Pool Pump Features:
Hayward model number SP15932S
Includes On/Off switch
1.5 Horsepower
2 Speeds
Includes 6 Ft power cord 115V
For above-ground pools of all types and sizes
Industrial size strainer basket for large debris
Horizontal/vertical discharge feature
Quick disconnect intake and discharge pipe connection
Easy disengagement of strainer housing
Heavy-duty, high-performance motor
Durable, corrosion-proof housing for years of dependable service
Integral drain plug for easy winterization of pump
Warranty – 1 Year
*Pumps and replacement motors that are single speed and one (1) TOTAL HP or greater cannot be sold, offered for sale, or installed in a residential pool for filtration use in California, Title 20 CCR sections 1601-1609.
Pool Warehouse
Call us now with questions about the Hayward PowerFlo Matrix 1.5HP 2 Speed Pool Pump. Pool Warehouse is Americas #1 online retailer of Inground Swimming Pool Kits And Swimming Pool Liners! We've been selling in-ground pool kits and inground replacement swimming pool liners online since 1996!
Open: Monday-Friday 7am-6pm
Phone: 800-515-1747
[email protected]
Pool Warehouse, We Know In-ground Swimming Pool Kits!