Description
UltraTemp 140k BTU Pool Heater And Chiller
The UltraTemp 140k BTU Pool Heater And Chiller is ranked best in class performance and efficiency. Environmentally superior. More standard features than any other. Heat your pool with an environmentally friendly heat pump. Pentair's UltraTemp heat pump uses an ozone-friendly refrigerant and has a 100% pure titanium heat exchanger that assures corrosion-free performance for extra-long life.
UltraTemp Pool Heater and Chiller Components:
Digital controls with dual thermostats offer precise temperature control for pool/spa combinations and avoid overheating and energy waste
Self-diagnostic controls to monitor and troubleshoot heat pump operations to ensure safer, dependable operation
Long-life, corrosion-resistant composite cabinet retains a like-new appearance for years
2″ plumbing connections for easy installation
UltraTemp Pool Heater and Chiller Features:
LCD control board displays an intuitive, menu-driven readout with easy to follow, full-word messages—no more codes
AutoSet (time clock over-ride) feature monitors water temperature and turns the water circulation pump on and off as needed to maintain desired pool temperatures
Automatic defrost feature senses refrigerant temperature and prevents UltraTemp from freezing, allowing the heat pump to operate at even lower temperatures
Long-life, corrosion-resistant plastic composite cabinet stands up to severe climates and pool chemicals
Emerson Copeland Scroll Compressor on 60-Hz, single-phase models
ETL listed for safe operation
Thermostatic Expansion Valve (TXV) controls refrigerant flow for optimum efficiency and BTU output over a wider operating range
Highest efficiency available—meets or exceeds existing codes and standards
BTU and efficiency performance independently certified by the Air-Conditioning, Heating and Refrigeration Institute (AHRI)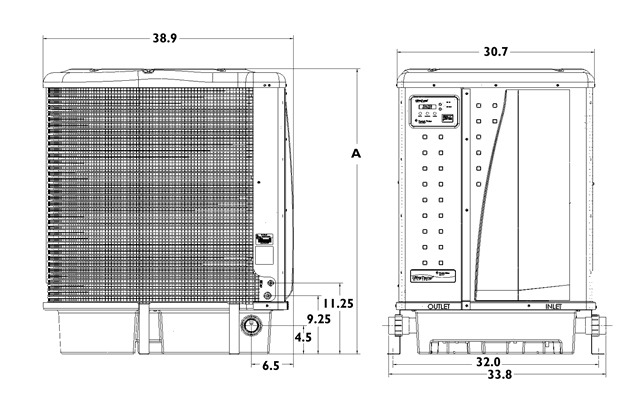 If you have questions about the UltraTemp Pool Heater And Chiller, please feel free to give us a call at 1-800-515-1747 or send us an email, [email protected]
At Pool Warehouse, We Know Swimming Inground Pool Kits!