Our polymer wall pool kits are manufactured by Hydra Pools and are 100% made in America! Our DIY pool kits have been going in backyards across America since 1998! The Pool Warehouse kit has a 20 year, a time-tested track record of customer satisfaction and quality! Pool Warehouse pool kits use structural thermoplastic walls that are molded to provide uniform rigidity, flatness, and strength. These polymer wall panels cannot rust, corrode, rot, crack or splinter. Pool Warehouse swimming pool kits offer efficient, economical installation combined with lower cost, proven durability, and maintenance-free pleasure. At any point during the selection process if you have questions about an inground pool kit, need more swimming pool kits detail or just want to talk about options please feel free to give us a call at 1-800-515-1747.
Polymer Pool Walls – Nothing Will Last Longer!
Polymer Swimming Pool Walls Panels Cannot Rust, Corrode or Rot!
Unique Deck Support Brace System is Designed to Transfer Deck Weight Loading to Vertical Wall and Anchor Stake.
Bolts Will Never Rust or Corrode! Alignment Bushing on Bolt's Automatically Self-Aligns to Help Join the Panels Together
As A Base Material Polymer Is Much Lighter Weight Than Steel And Easy To Handle When Working Alone.
Polymer Pool Wall Panels Require No Galvanization Process & Over Time Offer Superior Corrosion Resistance.
Watch To Learn More About Our Polymer Wall In-ground Swimming Pool Kits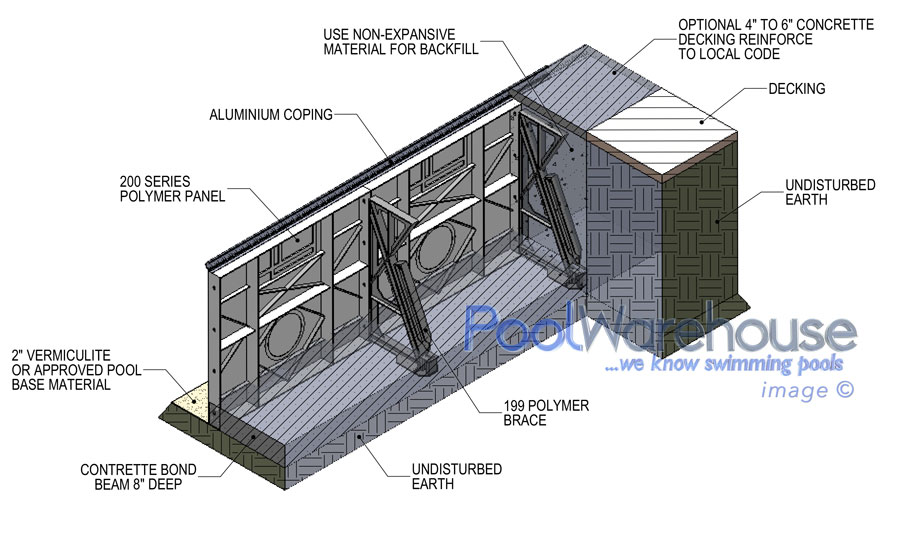 Unique Polymer Pools Steps & Pool Panels
Inside and out, only the finest goes into a Pool Warehouse kit! Our precision engineering means that every part is meticulously designed and fabricated for a flawless fit and finish. We offer a variety of swimming pool steps and covers, all available jetted or un-jetted. Our pool panels were manufactured with the builder in mind; easy to install, user-friendly and forward-thinking design is what keeps Pool Warehouse the #1 seller of Pool Kits on the internet! The strength of Pool Warehouse's intelligent design means you will have a swimming pool that will give you a lifetime of trouble-free enjoyment. We pay attention to your swimming pool kits detail down to the smallest screw.
Pool Warehouse doesn't sell "Economy" Pool Kits that are missing essential parts or come with substandard equipment that will need to be upgraded later. All of our inground Polymer Pool Kits come standard with Premium Hayward Pool Equipment Products and top of the line 100% American Made Hydra Swimming Pool Panels. Pool Warehouse offers a complete line of Hydra polymer and steel wall pool kits, both pool kits will come with all the equipment need for installation. We pay attention to your swimming pool kits detail, design, and function down to the smallest screw. The Cornerstone Swimming Pool Kit system can only be purchased from Pool Warehouse. The Cornerstone Pool Kit design is unique and exclusive to Pool Warehouse; this panel system has a 15-year track record of quality and durability. You Can Rest Assured That Cornerstone Steel Wall Swimming Pool Kits Are Time Test & Home Owner Approved!
Call Us Now At 1-800-515-1747, at Pool Warehouse we know swimming pool kits!