Description
Hayward Aqua Connect Home Automation Serial Interface (AQ-CO-SERIAL)
Today many homeowners are using automation to control a variety of functions inside and outside their homes, including home theater equipment, security, lighting, landscape sprinklers and more. In addition, many pool owners have a separate control unit to manage their pool, spa and other backyard functions.
We understand the value of homeowners' time and the need for simplification. That's why we developed Aqua Connect HA. It interfaces with common home automation suppliers like Crestron® so that the home automation keypad or display panel can effectively serve as the 'universal remote' for all indoor and outdoor home functions – including the pool and spa.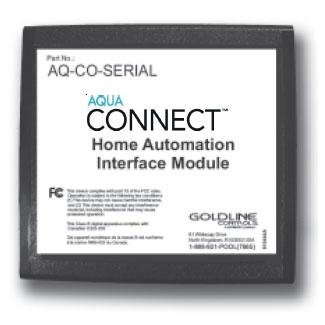 Since the Aqua Connect HA technology interfaces with home automation suppliers, it gives pool owners full access and functionality of Pro Logic pool controls through the home automation panel. There are no additional displays for the pool and spa – only the existing display that controls all home and property functions. That equates to one-stop management for the entire household.
Pool Warehouse
Americas #1 online swimming pool kit retailer! Selling the Hayward Aqua Connect Home Automation Serial Interface, in-ground pool kits, in-ground swimming pool liners and safety swimming pool covers since 1998.
Open:
Phone: 800-515-1747
At Pool Warehouse, We Know In ground Swimming Pool Kits!