Description
Hayward HCC 2000 Controller Package pH/ORP System with Chem Pumps
Perfect for swimming pools, spas, and water features, the HCC 2000 Series are a powerful yet affordable microprocessor-based pH and ORP water chemistry controller. The controller features proportional feed to ensure precise water chemistry maintenance, and operates using the Oxidation-Reduction Potential (ORP) method of water analysis to ensure rapid deactivation of such waterborne pathogens as E. coli in swimming pool water.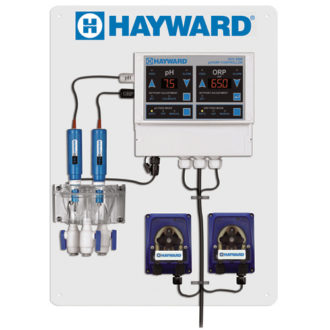 The HCC 2000 Complete Package provides the ultimate one stop shop experience, one unit pre-configured with everything required to make water chemistry management simple, convenient, and affordable. This package includes the HCC 2000 controller, flow cell, and flow sensor, all now pre-mounted on a PVC backboard with peristaltic feed pumps for pH and chlorine adjustment.
Hayward HCC 2000 Controller Package pH/ORP System with Chem Pumps Details:
Advanced microprocessor-based design technology
Comes with chemical feed equipment compatible with all existing chemical feed systems; chlorine, bromine, electronic chlorine (salt) generators, acid and CO2
Simple to operate user interface with easy to read LED display
Complete package offers a total chemical automation system for easy installation and ultimate convenience
1-year limited warranty on controller and factory labor
NSF/ANSI Standard 50 Certified
Pool Warehouse
Americas #1 Source For All Your Backyard Needs, Online Since 1998!
Open: Monday-Friday 9am-6pm
Phone: 800-515-1747
Email: [email protected]
Pool Warehouse, Making Backyard Dreams Come True!