Description
Hayward XStream 1.5HP Full-Flo Cartridge Filter 150sqft
Once you see the new XStream Filtration from Hayward, you'll be hooked. Its massive size and incredible performance mean years of trouble-free filtration. It has an extra-large capacity for dirt and debris and a quick-release, high-capacity air relief valve. But size isn't the only thing this filter's big on. The XStream Filtration makes daily operation and servicing more convenient than ever before. It's engineered to install easily with both flexible and rigid plumbing. Plus, the Easy-Lok ring design gives you quick access to all internal components in a single turn. And the glass-reinforced, noncorrosive filter tank ensures long-lasting, hassle-free operation. The XStream filtration system is equipped with the Power-Flo Matrix pump designed for durability and dependability and features an industrial-size strainer basket to collect a lot of debris without a lot of maintenance.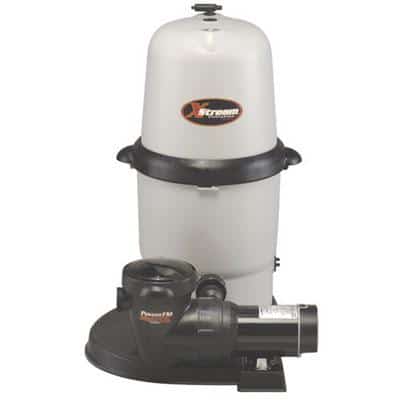 Hayward XStream 1.5HP Full-Flo Cartridge Filter 150sqft Features:
Engineered for easy use with flexible or rigid plumbing
Sleek, flush mounted pressure gauge
Quick release, high capacity air relief valve
Glass reinforced, non-corrosive filter tank will provide years of trouble-free operation
EasyLok™ ring design gives you single-turn access to all internal components
Unique safety-catch prevents over-tightening of the lid and efficiently secures the filter for high-performance operation
Longer, more efficient filtering life
Extra large filter body ensures an equal distribution of dirt and debris throughout the filtering element ensuring a longer more efficient filtering life
Union connection for simple installation and winterization
Hayward XStream(R) Filtration Full-Flo Cartridge Filter System
Filtration Area: 150 sqft
Design Flow Rate: 120 gpm
Maximum Working Pressure: 35 psi
Filter: CC1500
1.5 HP Pump: PowerFlo Matrix
Turnover: 57600 gal at 8 hrs, 86400 gal at 12 hrs
Filter Tank: Injection-Molded Glass Reinforced
Filter Element: Reinforced Polyester Element
Fastening: EasyLok(TM) Ring Assembly
Mounting Base: Injection-Molded Glass Reinforced
System Components: 1-1/2 Inch Hose Packages Include (2) 1-1/2 Inch x 6 ft Hose, Hose Adapters and Hose Clamps as well as Union Connection
Have Questions?
If you have questions about the Hayward XStream 1.5HP Full-Flo Cartridge Filter 150sqft please feel free to give us a call at 1-800-515-1747 or send us an email, [email protected]
At Pool Warehouse, We Know Swimming Inground Pool Kits!