Description
Turbo Twister Swimming Pool Slide
The Turbo Twister swimming pool slide gives your pool water park thrills-right in your own backyard! This slide was designed for maximum fun and safety for the entire family – with a super deep flume that safely accommodates children and adults, up to 275 lbs.! Standing over 7ft to the top of Handrails and offering an adjustable high-volume water delivery system, this slide provides thrilling fun rides that everyone will love.  Easy to install with lightweight pieces that are easy to handle, the slide assembles in less than one hour (without plumbing and deck mounting).  Joints come complete with built-in sealants for a no-leak guarantee. Add some thrills to your backyard with the Turbo Twister Swimming Pool Slide!  Available Sandstone or Gray Granite with Left or Right assembly.  This slide can be added to swimming pool kits sold by Pool Warehouse!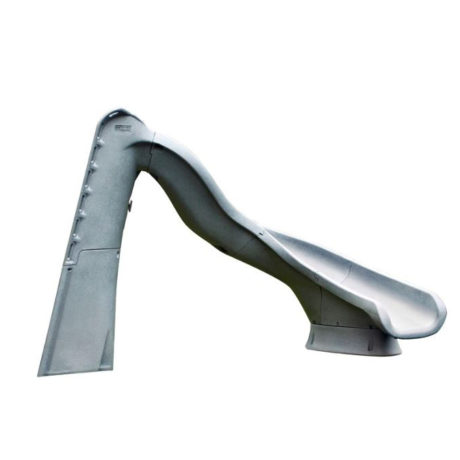 Turbo Twister Swimming Pool Slide Features:
Over 8 feet tall — bring water park thrills to your backyard
Multiple piece design boxes for easy storage and handling
Water delivery system pumps 40 gallons of water per minute
5-year pro-rated warranty
Assembles in under 1 hour (not including plumbing or deck-mounting)–fastest large slide installation in the industry!
High-volume GrandRapids™ water delivery system
Plumb through return line, or connect to a garden hose.
Available in right and left curves.
Enclosed ladder and new molded handrail design for maximum safety.
Sturdy rotomolded construction – for strength and durability.
Accommodates sliders up to 275 pounds.
This slide fully complies with the U.S. Consumer Product Safety Commission's Safety Standard for Swimming Pool Slides (16 C.F.R. 1207)
Commercial or residential use
Mounts on deck — no anchors required
Children under 48″ tall must be supervised at all times
For In Ground Pools Only
Can be used on inground pools that have a vinyl swimming pool liner.
)
Have Questions
If you have questions about the Turbo Twister Swimming Pool Slide please feel free to give us a call at 1-800-515-1747 or send us an email, [email protected]
At Pool Warehouse, We Know Swimming Inground Pool Kits!