Automatic Swimming Pool Cover Specs
The APC's THREE•SIXTY•FIVE™ is the automatic pool cover system of for vinyl liner pool owners who demand the very best for their backyard investment. This automatic pool cover unit is a unique combination of high-performance, year-round automatic safety cover and long-lasting pool coping system. This cover is mounted under the coping and requires that the pool walls remain square and parallel.
The complete automatic pool cover unit includes a high-density poly box, coping, electric motor drive, flush lid, premium grade vinyl, Invisa-Rope™, and limited 5 year warranty. A deliberately simple mechanical system and industrial grade components and treatments make our system the best and most reliable in the industry!
Automatic Swimming Pool Cover Specs:
This unit can be used with an 8′ diving board.
Chemical resistant webbing
This unit is available in 8 different colors.
Invisa-Rope™ that matches non-skid coping.
High-density polyethylene box housing for cover.
This unit will save money on chemicals, water and cleaning time.
This unit includes an automatic cover pump to keep rain water off the surface of your cover.
This unit includes a water resistant, 3/4 HP electric motor that delivers 1500 lbs of torque.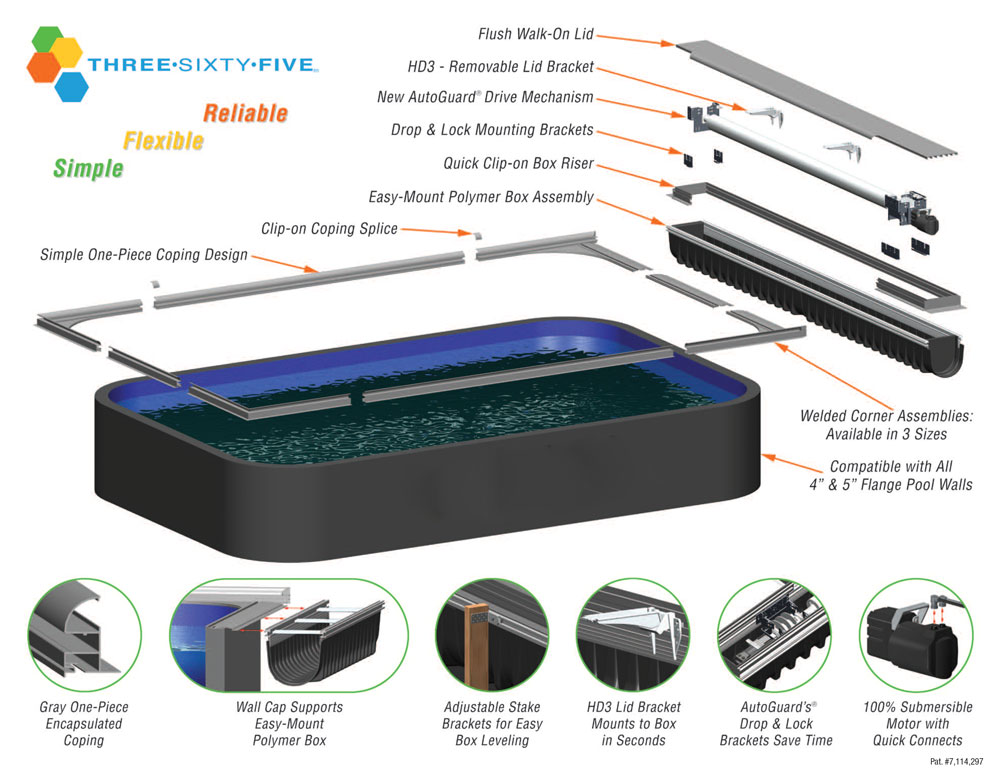 Automatic Swimming Pool Cover Features:
This unit includes a 5 year limited warranty.
This unit meets industry safety standards (ASTM-1346).
This unit includes Personalized PowerTouch operation to secure pool in 45 seconds.
Automatic Swimming Pool Cover Specs Questions?
If you have questions about our Automatic Swimming Pool Cover Specs please feel free to give us a call at 1-800-515-1747 or send us an email, [email protected]
At Pool Warehouse, We Know Inground Pool Kits!