In ground Pool Kit
At Pool Warehouse we pioneered selling an in ground pool kit on the internet. We've been selling our pool kits coast to coast on our site for over 20 years! We have a time tested, track record of customer satisfaction that has allowed us to become the largest swimming pool kit retailer on the internet. Pool Warehouse is also the designer and distributor of the exclusive Cornerstone Swimming Pool Kit. The Cornerstone Pool Kit has been going into back yards for over 15 years so you know it's a pool kit system that you can trust!We offer over 200 different in ground pool kit styles that fit perfectly into almost any back yard. Pool Warehouse offers completely customizable swimming pool kits, in most cases if you can imagine it, then we can design it! All of our polymer and steel wall pool kits come with Free Shipping, Free Lift Gate Service and all the pool kit equipment needed to get your new swimming pool running.
At Pool Warehouse we strive for unmatched customer service and sales expertise, our goal is to provide customers with inground pool kits to fit any type of backyard. Our sales staff has is committed to customer satisfaction and helping making your dream of owning a swimming pool a reality. Call one of our pool kit sales associates and find out why we are the highest rated swimming pool kit company's on the internet. Our in-ground pool kits are American made and ship with only the highest quality vinyl swimming pool liners.
 In Ground Pool Kit Shapes
Time Tested American Made Quality
Manufactured in America every inground pool kit is made to last for generations to come! Our pool kits come in two one of two distinctly different wall options, Steel or Polymer. Our steel pool kits are made using only the highest grade galvanized steel with an impressive, rust preventing, G235 Zinc coating. Our Polymer pool kits are made from a unique blend of polymers that will last for generations to come. Polymer in ground swimming pool kits are a bit higher in price. All of our in ground swimming pool kits are completely customizable and come with all the equipment needed for installation. Our sales representative are available to discuss which type of in ground pool kit is right for you, give us a call at 1-800-515-1747.
JT explains what to expect when buying DIY Polymer In Ground Swimming Pool Kit from Pool Warehouse. He explains everything that comes in your kit from pool pump, filter, step and hand rails to the pallets of polymer wall panels. JT also shows how to set your polymer pool wall panels and braces around the perimeter of your pool. While this video is about polymer pool walls, this same method can be used for understanding the delivery and installing our steel wall pool kits.
Pool Warehouse offers two types of pool kits: Steel Wall and Polymer Wall. There are many advantages with any pool kit wall material you choose and once you have made the investment your swimming pool is sure to bring many years of enjoyment and pleasure for your family and friends. Our pool kits offer flexibility of design and can be custom made to any shape or size you can imagine. Most homeowners love vinyl lined pools because they are a less expensive method of construction and can be completed in a much shorter time period, often times withing just one week. Also vinyl swimming pool liner patterns and color schemes give pool owners many options to later enhance their dream poolscape for years to come.
Compare A Polymer & Steel Wall In ground Pool Kit
One common question we are always asked is, steel wall vs polymer wall in-ground pool kits, which is better? So we've decided to provide a quick comparison between the two that will help you decide which pool kit is best for your family. For starters the differences between the two different pool kits are only minor and both pool wall systems are built to last a lifetime. For the last 16 years Pool Warehouse has exclusively sold only premium pool kits manufactured by Hydra Pools. Hydra has been manufacturing swimming pool panels and braces since 1984 and is the exclusive manufacture of our unique Cornerstone Polymer and Steel wall Panel, which 100% American made. When you combine Hydra's quality and years of manufacturing experience with Pool Warehouse's sales and service your guaranteed to have the swimming pool you've always dreamed of!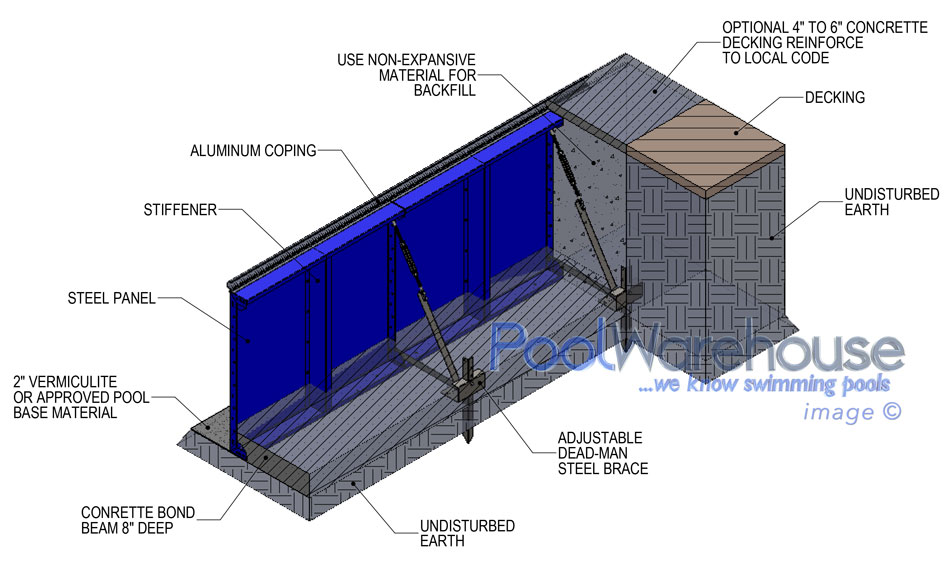 As a base material, steel walls are stronger than polymer walls however with that strength comes weight. Steel is much heavier and makes the wall panels more cumbersome when moving around.
As a base material Polymer is much lighter weight than steel and easy to handle when working alone.
Steel wall panels are treated with a G-235 zinc coating. This is the strongest galvanization process in the industry and is the highest rated galvanization that steel can be treated with.
Polymer pool wall panels require no galvanization process and over time offer superior corrosion resistance.
In some cases surface corrosion can occur on steel walls when used with salt systems on in soil with a high acidity.
Steel offers much more flexibility in custom design features as bent radius and custom steel steps are easier to make.
Polymer panels cant be bent and cannot be used to make some tight radius's.
Never Use Steel Braces With A Polymer Wall Pool Kit As This Will Void Your Warranty With The Manufacture.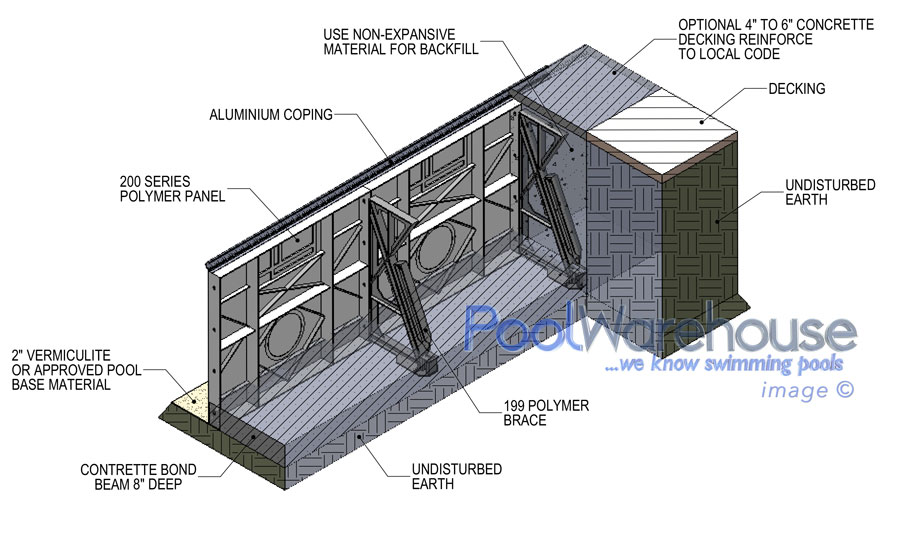 In ground Pool Kit Questions?
Buying a swimming pool kit online will save you money and with over 16 years of inground pool kit sales experience, Pool Warehouse has become North America's premier direct wholesaler of in ground steel and polymer pool kits! Every in ground pool kit come with dig specs, a pool kit installation video and a detailed installation manual. All of our inground steel pool kits come standard with Free Curb Side Shipping & Our Best Price Guarantee!Also make sure to remember, Pool Warehouse doesn't sell pool kits with sub standard equipment that will need to be upgraded later. All of our swimming pool kits come standard with Premium Pool Equipment, top of the line Hydra Pools pool walls and an American made vinyl Swimming Pool Liner that comes standard with a 20 Year Warranty!
If you have questions about an inground pool kit please feel free to give us a call at 1-800-515-1747 or send us an email, [email protected]
At Pool Warehouse, We Know In Ground Pool Kits!