Description
Powerclean Salt Econ 320 Chlorine Generator
The Powerclean Salt Econ system is from Pool Warehouse UL Certified as an effective chlorine generator. The design includes special features that enhance the system installation and operation. The "Breeze" was the premier unit available from SGS. Now it's called the "Ultra," and there is even more that makes this unit special. The chlorine generating cell has been "beefed up" to create a stronger body. The improved design is over 20% stronger in testing, and resistant to bending or cracking during installation. The more heavy duty design also has a new strong "bridge" piece between the two ports to secure them in place.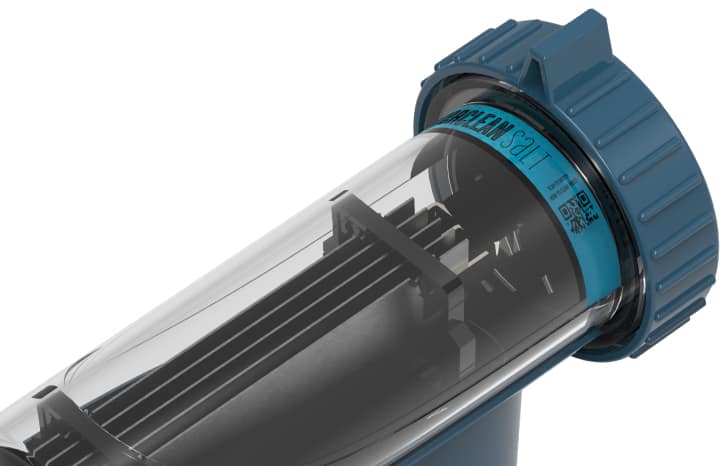 New handles have been added to the cap, making it easier to turn and remove for quick and easy cleaning. The cleaning tool has also been improved, now made out of durable, molded plastic (instead of wood), allowing it to last longer in the elements. Unions are now integrated into the redesigned body, making the unit easier to install and remove as needed.
Clean, Clear & Safe: Designing a Complete Model Pool™
Advanced Sanitizers are Powerful
Advanced Sanitizers are excellent for destroying or inactivating dangerous contaminants that can be present in any backyard pool. They are effective on microorganisms, viruses, bacteria and other pathogens. Chlorine can also be slow to work, and it's effectiveness is lowered by the presence of chloramines and unbalanced pool water. Advanced Sanitizers break down chloramines and work in a wide pH range.
The Importance of a Residual
Chlorine has a long history of use in pool sanitization, and it has one great trick. It is excellent for maintaining an active residual in the water itself. That means the moment a contaminant enters the water chlorine gets to work. Chlorine is also just as effective when the pump is off, as long as a proper residual level is maintained in the water.
The Complete Modern Pool™
The goal when designing a sanitizing system for a backyard pool is to create the best possible installation. Every tool has strengths and weaknesses-the key is to choose components that work together to achieve the best result!
Powerclean Salt Econ 320 Chlorine Generator Details
System for pools up to 20,000 gallons
Cell is 10,000 hours
Extended life option includes a 1 year extended manufacturers warranty.
Produce almost 1.3 lbs of chlorine per day max
Four output levels plus Chlorine Boost
Produce pure chlorine without tablets or shock
Salt chlorination leaves the water feeling smooth and soft
CMP innovative products take the guess-work out of maintenance
Auto shut-off for low salt, low temp or low flow
NSF Certified to UL-1081
Pool Warehouse
Americas #1 Source For All Your Backyard Needs, Online Since 1998!
Open: Monday-Friday 9am-6pm
Phone: 800-515-1747
Email: [email protected]
Pool Warehouse, We Know Inground Swimming Pool Kits!