Above Ground Pool Liners
Click Here To Shop Above Ground Liners!
Above Ground Pool Liners
Our premium above ground pool liners are made using a unique process for maximum protection from pool chemicals and the sun's damaging U.V. rays. Constructed of virgin vinyl, our liners will last longer and maintain their beautiful appearance for years. Strong, double-welded seams will withstand winter's worst. Our liners are so rugged; they are backed by a 20 year warranty.

Overlap Pool Liners: Overlap pool liners are the most economical option and are easy to install. They attach to the pool wall with coping strips that hold the liner to the pool wall. A coping strip is a piece of plastic that acts like a wide paper clip that runs along the top of your above ground pool wall. Since it "overlaps" the swimming pool wall from the inside, the copingstrip ensures that the liner is held firmly in place. Multiple coping strips are used to precisely contour the entire length of the pool wall. Because overlapping may cause unevenness when installing, Overlap designs are typically limited to a solid color or uniform patterns. Many attractive styles are available and add a hint of style to a pool.
Unibead Beaded Liners: Unibead pool liners are the ultimate in versatility and have a two-in-one feature that allows you to replace an Overlap liner with a Unibead liner. Unibead liners have the option to be used with a bead receiver or as a J-Hook liner. If you don't have a bead receiver, simply hook the line onto the rim of the pool wall. If you have a bead receiver, carefully remove the J-Hook portion of the Unibead system and install like a beaded liner by snapping the liner into place. Both give you a clean, professional look without any excess material hanging over the edge like in an Overlap liner. The Unibead provides all the benefits of protective liner and the freedom to use patterns found only on beaded liners.
When you change your round above ground pool liner with an overlap pool liner, you will need to remove the top seats on your pool. With a beaded liner installation, you do not remove any pool parts. Simply remove the old liner and snap the new one in place. It acts similar to an inground liner installation. We highly recommend beaded liners for all above ground pools.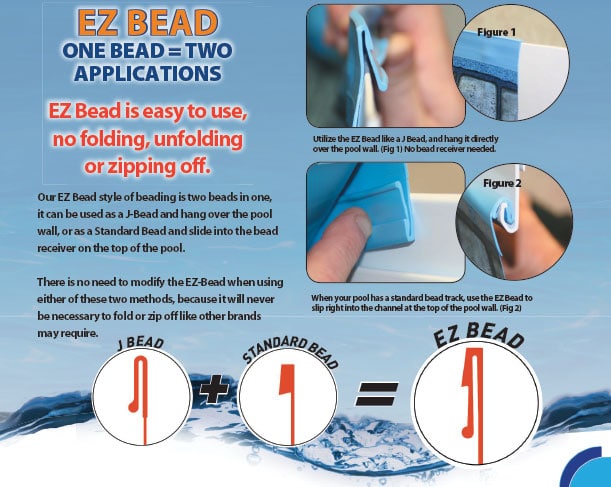 At Pool Warehouse, We Know Swimming Pool Kits!