Unibead Above Ground Pool Liners
Unibead Can Be Used As Beaded or J-hook Pool Liner!
Unibead Above Ground Pool Liners: Unibead liners are the ultimate in versatility and have a two-in-one feature that allows you to replace an Overlap pool liner with a Unibead liner. Unibead above ground swimming pool liners have the option to be used with a bead receiver or as a J-Hook liner. If you don't have a bead receiver, simply hook the line onto the rim of the pool wall. If you have a bead receiver, carefully remove the J-Hook portion of the Unibead system and install like a beaded liner by snapping the liner into place. Both give you a clean, professional look without any excess material hanging over the edge like in an Overlap liner. The Unibead provides all the benefits of protective liner and the freedom to use patterns found only on beaded liners.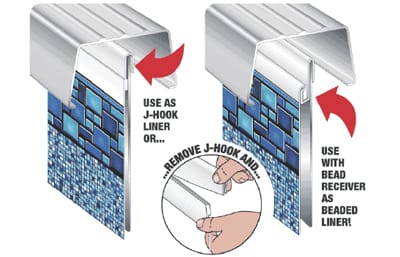 Beaded (Unibeaded) Above Ground Pool Liners: Beaded above ground swimming pool liners are the easiest to replace and come in a wide array of designs. Using a bead receiver that hangs over the top of an above ground pool kit wall, the Beaded pool liner simply snaps into the receiver giving you an even and consistent look. Because they install evenly around the pool kit wall, Beaded liners flaunt beautiful designs and patterns including wall borders and tile trims.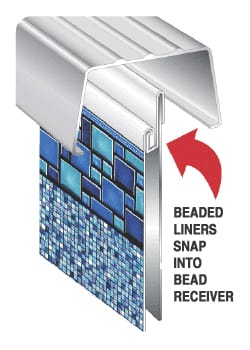 Which Pool Liner Bead Type Is The Best?
With several different above ground swimming pool liner bead types available customers always ask, which bead type is the best? One of the main differences to note is that with an above ground beaded pool liner you would need to purchase a bead receiver track, which is what the pool liner would snap into. While an overlap above ground pool liner does not need this same bead receiver as it just hangs over the swimming pool wall and is held in place by being clamped down. The upside to beaded or Unibead Above Ground Pool Liners is that you can purchase them with patterns along the top of the liner. This is only possible because the pool liner is going to be uniformly distributed around the pool, and not pulled too far one way or another. With an overlap pool liner, since you are just pulling it tight yourself, it can sometimes be uneven and not look quite as nice as a beaded liner.
The most versatile and easiest to use is above ground pool liner option is our Unibead above ground pool liners. With a UniBead liner you can use it as a J-Hook style or as a Standard Beaded liner. This is accomplished in a matter of minutes by location where the seems meet on the liner, using a utility knife to cut along the seam betweend the standard bead and the J-hook bead. Once you've cut the bead are you simply pull the cut seems between the two beads and completely remove the J-hook liner bead.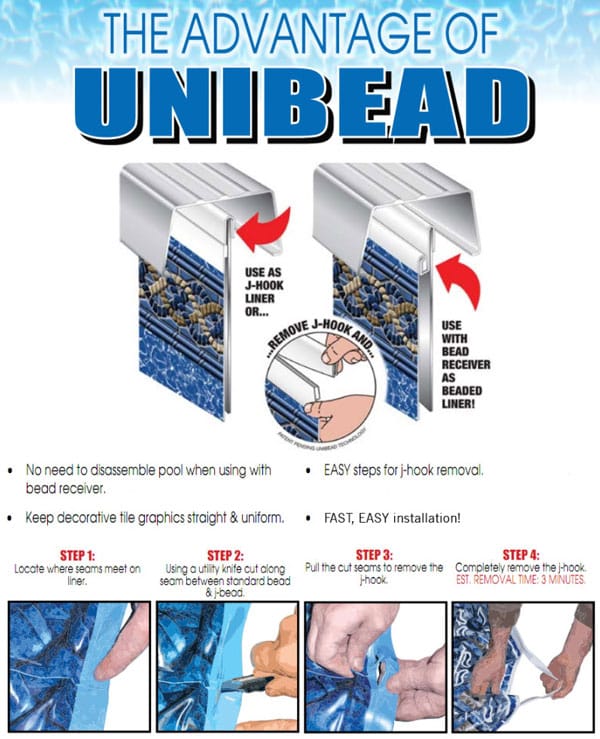 Above Ground Pool Liner Installation Accessories
Swimming Pool Floor Pads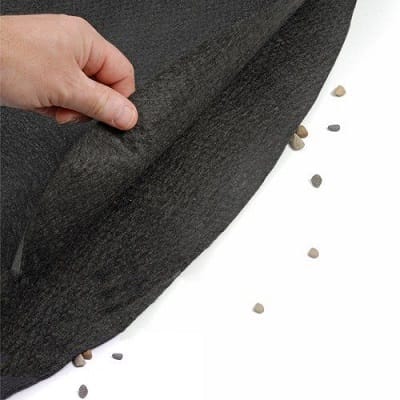 A pool floor pad provides an important protective layer between a vinyl above ground swimming pool liner and it's sand or soil base. This acts as a vapor barrier to keep potentially harmful water away from metal components. In addition, pool liner failure due to puncture is minimized and heat retention is improved.
Pool Wall Foam
Pool wall foam is padding that helps to create a smooth wall surface while preventing rust, corrosion, and other wall degradation from puncturing your liner.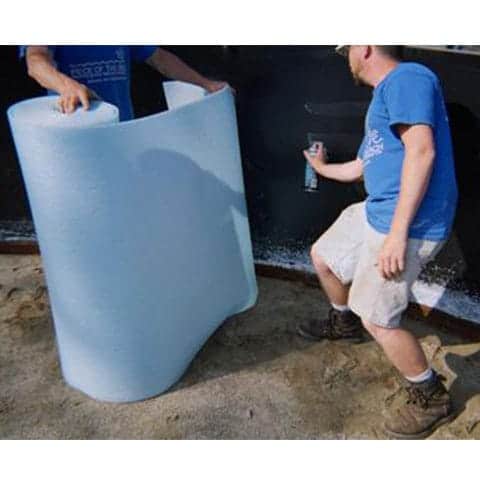 Foam Cove Moldings
Make sure to place a foam pool cove around the bottom, inside circumference (where the pool floor meets the wall) of your above ground pool wall before installing your new liner. Foam cove moldings fill the void at the pool's base, it helps eliminate stretching, pulling and tearing at the bottom, which can cause damage to your above ground pool liner. Also, it is easier to use than trying to mold your sand.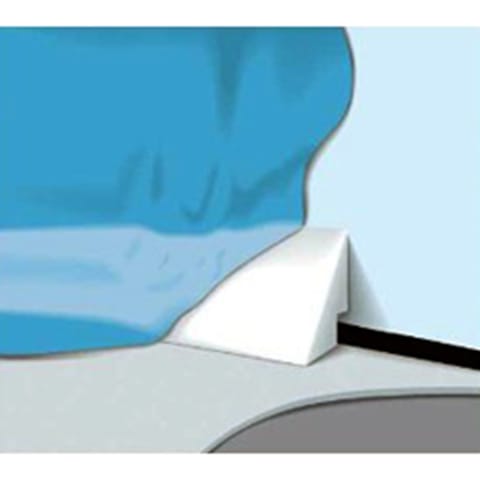 Unibead Above Ground Pool Liners
If you have questions about our unibead above ground swimming pool liners please feel free to give us a call at 1-800-515-1747 or send us an email, [email protected]
At Pool Warehouse, We Know Swimming Pool Kits!