Fiberglass Swimming Pool Kits
At Pool Warehouse our mission is to provide your family with the perfect pool regardless of shap, style or size! With that in mind we offer a great selection of quality, made in the USA, fiberglass swimming pool kits. Our passion is making your dream of owning an inground pool a reality. Our fiberglass pool kits are made with the highest quality materials available and come in a variety of shapes and sizes. All of our pool kits are designed to be maintenance friendly and too require fewer chemicals than others on the market today. This forward thinking design allows you decades of enjoyment without costing you valuable time and money. Our fiberglass pool kits are available in various shapes and sizes but your having a hard time finding one that meets you requirements just hop over to the "Inground Pool Kits" tab and check out all of our custom steel or polymer pool kit options. Fiberglass pool kits do not come standard with free shipping but we always strive to get you the best rate possible!
Can't find what your looking for? Try one of our Polymer or Steel pool kits.
Our Fiberglass swimming pool kits are made with heavy duty fiberglass and require fewer chemicals and almost no maintenance. We want you to focus on enjoying your new inground pool kit and not tedious, costly upkeep. Whether you decide to purchase a Polymer or Fiberglass pool kit you can't go wrong with a long lasting swimming pool from Pool Warehouse.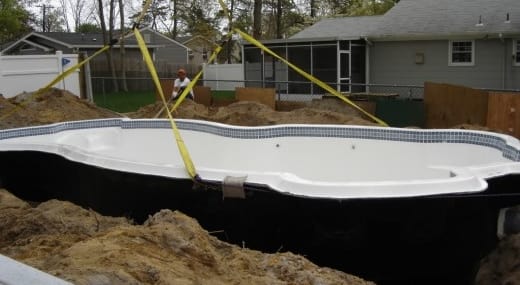 Why buy your pool kit from Pool Warehouse?
Best Online Pool Kit Price Guarantee!

Pool Warehouse has a developed a factory direct pool kit program that will save you more than $10,000 compared to inground pool kits sold by local dealers. Pool Warehouse is committed to meeting or beating any competitor's swimming pool kit price!

We get your order right the first time!

Pool Warehouse has been selling inground pool kits online since 1996 and with over 20 years of selling experience you can rest assured your pool kit will be right. Not having all the right pieces to your swimming pool kit can cost you valuable time and money during the building process, so we get it right the first time.
*Price Matching: Must be like kind items. If the swimming pool quote provided is missing items "steps, lights, timers, etc." or has inferior products not recommended by Pool Warehouse, for performance or warranty issues we reserve the right to not price match those items. When comparing final pricing make sure shipping has been included and all necessary components needed to install your in ground pool kit have been added to your final order.
* Please note that this is a large undertaking, and we cannot offer direct factory support on fiberglass as with our Steel wall pool kits and Polymer Panel inground pool kits. Therefore, we strongly encourage you to discuss this project with a local swimming pool installer as well as reviewing the pool kit installation guide before making your purchase. Our top priority is your complete satisfaction with one of our pool kits.
Pool Kit Questions?
If you have questions at any time please feel free to give us a call at 1-800-515-1747 or send us an email, [email protected]
At Pool Warehouse, We Know Swimming Pools!